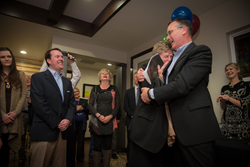 It was just the kind of heartfelt gesture that you'd see in the movies. But it was happening right before our eyes.
Denver, Colorado (PRWEB) April 22, 2014
Denver real estate agent Judy Pitt is bringing fresh water to 10,000 Kenyans thanks to a generous donation from Taylor Morrison Denver, which will help stem the tide of water-related illnesses like cholera, fluorosis and malaria that affect the lives of Kenyan children every day.
The donation came about after Pitt recently turned down a Mercedes Benz from the Denver homebuilder. It was the second time in three years that Pitt had declined a new car.
"Judy is such an amazing woman," Brian Cartwright, vice president of sales and marketing for Taylor Morrison's Denver division, said of his company's donation. "We just felt that her selflessness needed to be supported."
In addition to being a real estate agent, Pitt also serves as the executive director of the Kazi Yake Foundation, which provides much needed help to rural villages in Kenya. While she works tirelessly to help the people of Kenya, Pitt knows that work isn't enough. Money and donations make just as large a contribution.
So when Pitt was selected at the Taylor Morrison "Keys to Success" event at Skyestone in Broomfield as the winner of a new Mercedes Benz earlier this month, she appreciated the gesture, but as usual, Pitts was thinking of others rather than herself.
Amazingly, this was not the first time Pitt had been selected as the winner of the contest. In 2011, her name was drawn and she was announced as the winner of that year's Mercedes Benz giveaway. But instead of choosing the car, Pitts selected to take a cash buyout so she could donate to the money to a tiny Kenyan village.
With Taylor Morrison's help a desperately needed well providing fresh water to the tiny village of Othoo was built.
This time, however, was different. Because of a change in the rules, there was no cash buyout for winning. Judy would need to take the car.
Cartwright and Graham Hughes had just met Pitt only 30 minutes before her named floated across the room as the winner. They had heard her story, heard about the people of Kenya and were amazed by her generosity. So when Pitt's name was called, they sprang into action.
Cartwright and Hughes quickly formulated a plan and called Pitt, who was sobbing as she considered her good fortune, to the front of the room.
"You could tell that she was overwhelmed," Cartwright said. "And from our earlier conversation, we knew she didn't want the car."
The solution? Cartwright and Hughes agreed on the spot to give Pitt a $30,000 donation for her charity and to once again raffle the car off to a local realtor. The room erupted in applause.
"It's a tight-knit community," Cartwright said of the local Denver Realtor community. "I think at that moment, a brand new red Mercedes Benz was the farthest thing from their minds. They were just so happy for Judy."
Another Realtor in the room was also inspired by Pitt's generosity. She announced to the packed room that her group was going to donate another $5,000 to Pitt's charity.
"It was just the kind of heartfelt gesture that you'd see in the movies," Cartwright said. "But it was happening right before our eyes."
Denver realtor Deborah Oakes was eventually drawn as the winner (Pitt drew the new name from the barrel of entries) and the evening drew to a close, but not before Pitt and Oakes stood in front of a shiny Mercedes for pictures. By then, the donation was starting to sink in.
"Judy's generosity is going to stay with our team for a long time to come," Cartwright said. "She's truly a special woman."
For more information about Taylor Morrison, please visit http://www.taylormorrison.com.
About Taylor Morrison
Headquartered in Scottsdale, Arizona, Taylor Morrison Home Corporation operates in the U.S. under the Taylor Morrison and Darling Homes brands and in Canada under the Monarch brand. Taylor Morrison is a builder and developer of single-family detached and attached homes serving a wide array of customers including first-time, move-up, luxury and active adult customers. Taylor Morrison divisions operate in Arizona, California, Colorado, Florida and Texas. Darling Homes serves move-up and luxury homebuyers in Texas. Monarch, Canada's oldest homebuilder builds homes for first-time and move-up buyers in Toronto and Ottawa as well as high rise condominiums in Toronto. For more information about Taylor Morrison, Darling Homes or Monarch, please visit http://www.taylormorrison.com, http://www.darlinghomes.com and http://www.monarchgroup.net.