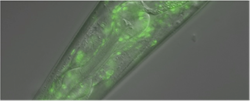 This is a great opportunity for undergraduate students to get their hands on research grade instruments not typically available to them. - Micah Harrel
(PRWEB) April 16, 2014
Undergraduate students at UC Berkeley will have the opportunity to use advanced fluorescence microscopes in a Genetics Laboratory course taught by Professor Andrew Dillin. The course gives biology major students hands-on experience in classical and modern genetics research. The course experiments, using model organisms including yeast (S. cerevisiae) and nematodes (C. elegans), are designed to experimentally explore important concepts in genetics, while developing the bench skills needed to do cutting edge genetics research.
JH Technologies and Leica Microsystems will be providing 4 advanced fluorescence microscope for use during the course. Micah Harrel, CTO at JH Technologies says "This is a great opportunity for undergraduate students to get their hands on research grade instruments not typically available to them. Our staff will be on-hand to explain and guide students in the use of these microscopes. We hope to continue to inspire students by giving them an opportunity to engage in a high level learning experience."
Principal investigator Andrew Dillin suggests "Thanks to JH Technologies and Leica, access to advanced fluorescence microscopes will be of great benefit to the next generation of scientists at UC Berkeley."
"One of our goals is to inspire future scientists. Access to advanced instruments and technologies will generate the excitement and inspiration needed to build the passion in students who will one day develop the cure for Alzheimer's or cancer," says John Hubacz, CEO at JH Technologies. "Our iFuSE (Inspiring Future Scientific Exploration) program funds activities that allow students to have that hands-on experience which will ignite their passion for science. This course is a perfect venue for developing that inspiration," continues Hubacz.
About JH Technologies
JH Technologies is a major national optics and microscopy dealer with 25 years of experience in optical and digital imaging for applications in semiconductor, solar cell, micro-technology, medical device, forensic, and educational markets. Recently, JH Technologies has expanded its reach to include the Pacific North West and New England markets. Additionally, more than half of JH Technologies' business comes from the life science research market where they serve some of the largest research organizations, medical institutions, and biotech and pharmaceutical companies in the country. JH Technologies sales staff consists of engineers and scientists who are dedicated to providing the most appropriate solutions for their customer's unique problems. The sales staff is supported by an outstanding group of factory trained applications experts and service engineers. Visit http://www.JHTechnologies.com to learn more about the solutions JH Technologies can provide.
About UC Berkeley Dillin Lab
University of California Berkeley Department of Molecular and Cell Biology houses the Andrew Dillin laboratory. The Dillin laboratory utilizes emergent technologies to look at the manipulation of stress response pathways within a specific cell type or a single subcellular compartment within a specific cell type. In its research, the Dillin lab works with a variety of organisms, including mice and stem cells. However, the lab's historic roots are in working on the nematode C. elegans, a well-established model organism in aging studies.
For more information contact:
Marketing
JH Technologies, Inc.
225 Hammond Avenue
Fremont, CA 94539
Phone 408-436-6336
Fax: 408-436-6343
Email: info(at)jhtechnologies(dot)com
Website: http://www.JHTechnologies.com