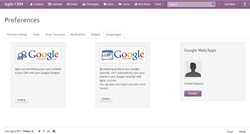 Agile CRM now integrates seamlessly with the world's most popular cloud-based productivity suite.
Sunnyvale, CA (PRWEB) April 17, 2014
Agile CRM, a subscription-based SaaS product that went into open beta in March 2014, announces the release of a range of Google Apps integrations, including integration with Google Mail, Google Calendar, Google Contacts and Google Drive. The company has also released a free Agile CRM Gadget that enables sales and marketing functionality within the Gmail app.
Google Apps CRM Integration in Agile follows the company's philosophy that sales and marketing information should be cloud-based and easily accessible. Agile CRM's Google Contacts integration allows users to sync contacts between the CRM and their Google Contacts account. Users can select frequency of sync, which contacts to sync, and target folders. The Google Calendar integration enables 2-way sync with instantaneous updating. The Google Drive integration lets users link documents to contacts or deals, so that relevant information is always on hand.
Agile CRM's Google Mail (Gmail) integration includes seamless 2-way email synchronization so that users can view complete Gmail conversations and an email timeline from within their CRM accounts. Users can also add the Agile CRM Gadget to their Gmail account to see essential contact details and relevant information about tasks, deals and campaigns related to the contact. The Gadget also lets users add contacts to campaigns, add or delete tags, and change lead scores, all from within Gmail.
Agile's beta users have been raving about the CRM's two-click integrations. "For a startup that relies a lot on online business, Agile CRM has been invaluable to our sales team as it integrates many capabilities out-of-the-box," said R. Paul Singh, CEO of Espresso Logic.
"Integration with Google Apps has been the most requested feature among our beta users," says Agile CRM founder Manohar Chapalamadugu.
More info: https://www.agilecrm.com/google-apps
About Agile CRM
Created by the team behind popular live chat product ClickDesk, Agile CRM is the world's first fully integrated sales and marketing suite - a CRM with full Marketing Automation functionality. The company launched in late 2013 and announced their open beta release in March 2014. In addition to their Sunnyvale, CA headquarters, Agile maintains offices in India and the Philippines. They are committed to open source development and the powerful simplicity of cloud computing.
Agile CRM is free for the first two users, and after that subscription rates are extremely reasonable. More info: https://www.agilecrm.com/pricing.html