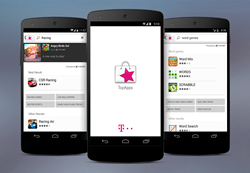 With 1.3 million apps in the market and 35,000 new apps each month, the demand for smarter app search increases.
Berlin, Germany (PRWEB) April 16, 2014
Deutsche Telekom and app search company Xyo today announced a new partnership. TopApps, the app recommendation service by Telekom, will now be powered by Xyo's smart app search and app advertising solution. TopApps is live in Germany, Austria, Switzerland and the US with other countries such as Poland to follow in the coming months. The partnership will later extend to other touchpoints, for example device widgets. Globally, Deutsche Telekom's 142.5M subscribers will gain access to Xyo's smart app search technology and app search advertising solution.
"There are different ways that app discovery can be smarter: at Xyo we are able to map views, click paths, search queries or installs to get an 'app persona' for each user to recommend better apps to them – even without any social or demographic data. This type of search technology will be integrated into TopApps," said Matthaus Krzykowski, co-founder and Head of International Partnerships at Xyo.
The cooperation also marks the first time that Xyo is partnering publicly with a carrier for app search advertising. Xyo has developed a unique technology that displays advertising in the right context where users care about an app. By using Xyo's technology, partners can show app install advertising to users who are actively searching for apps with a high intent to download. Publishers will be able to book app search advertising on global Deutsche Telekom properties through Xyo. Deutsche Telekom TopApps is one of the largest Telco partnering programs in the world.
As consumers spend 86% of their time on mobile devices using apps (according to Flurry), carriers and OEMs are accessing new technologies in app distribution to play a much more active role in the customer relationship. At the same time, the app distribution landscape is changing – while Facebook has disrupted the market with its app install ads, other platforms such as Twitter and Yahoo are working on their own approaches as they look to monetize their mobile eyeballs. "Apps are escaping the closed catalogues and top lists of the app stores. They are becoming part of the personalized streams of content surrounding us every day. The technology is out there for third parties to get into the smart app discovery game," said Krzykowski.
This is occurring against the backdrop of Android app usage maturing and starting to reflect more mainstream tastes. In Europe, 1.7 billion Android apps were downloaded in February 2014 (US: 1.1bn) – more than twice as many as in the same period last year. While a year ago Tools were the most downloaded category of Android apps, users now prefer Lifestyle and Entertainment apps, according to Xyo's app search stats. "In the last 12 months Android downloads have doubled in volume and we've seen a shift in consumer behavior towards entertainment content like Magazines, Music or TV apps. With 1.3 million apps in the market and 35,000 new apps each month, the demand for smarter app search increases," commented Krzykowski. Xyo will be announcing more global app search partnerships in the upcoming months.