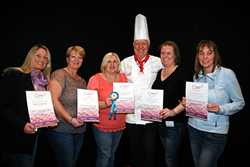 The judges are tough on every minute detail and that makes it all the more a recognisable achievement.
Hornchurch, Greater London (PRWEB UK) 17 April 2014
Julie Ettridge, Diane Stokes, Debbie Mardell and Dorothy Townsend clinched Gold, Silver and other prestigious awards after putting their sugarcraft and baking skills to the test in a student category at Cake International held at London's ExCel exhibition centre from April 10th – 12th.
The cherry on top was a Gold award for Havering College course tutor Zena Mitchell who impressed with her towering wedding cake.
The prizewinning feedback from judges at the two-day event which attracted more than 20,000 visitors is a testament to the success of the Professional Cake Decorating course now running at Havering College's Ardleigh Green Campus in Hornchurch, Greater London, on Saturday mornings.
British Sugar Craft Guild member Zena, who last year retired from her post as Havering College Head of School for Education and Professional Studies to concentrate on her successful sugarcraft and cake decorating business, said: "It is a great achievement for our students who have progressed so well and polished their skills in the short six week course.
"I am so proud of all of them and gaining a recognised award is a testament to them and recognition for the hours of work taken in the preparation for such a prestigious competition and exhibition. The judges are tough on every minute detail and that makes it all the more a recognisable achievement.
"This group have fully supported each other and have made great friends along the way. The course has provided them with more confidence to perfect their icing skills.
"For myself, this is my second year of entering and I'm delighted to have achieved a Gold award."
Hornchurch resident Debbie Mardell, who started the course six weeks ago with hardly any baking experience and only basic cake decorating skills, said: "I was a blank canvas so to speak but now I sit here with a Certificate of Merit and am classed as an international award winner. My thanks and appreciation go to our tutor Zena. Her course has given me inspiration to develop and push myself further."
Julie Ettridge, from Harold Hill, who achieved a Gold and overall third place in class, said: "I am over the moon. I am very proud of what I have achieved in such a short space of time."
Diane Stokes, from Collier Row, a Silver award winner, said: "To say I am elated is an understatement."
Fellow classmate Dorothy Townsend from Collier Row, was presented with a Certificate of Merit.
The next Professional Cake Decorating course is due to start at Havering College of Further and Higher Education in Hornchurch, Greater London, on Saturday, May 10th. For information email information(at)havering-college(dot)ac.uk or call Havering College Threshold Services on 01708 462801.