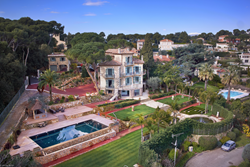 France, Nice (PRWEB) April 17, 2014
With its classical proportions and contemporary conveniences, Chateau La Cima is flawlessly tailored for modern-day lifestyle, reflecting both the verve of the contemporary life and the stillness of a home set in one of the most beautiful places in the world.
A Unique Location
Overlooking the spectacular Bay of Villefranche, Chateau La Cima offers panoramic views over the peninsula of Cap Ferrat.
The villa stands in the park of the Forêt Nationale de France, close to the beach, at only a couple of minutes drive from the Old Town of Villefranche-sur-Mer or the Nice City centre.
An Iconic Property
David K.E. Bruce, Chateau La Cima's former owner was famous both for his illustrious career in diplomacy and for his charisma and lifestyle. He was U.S. Ambassador to France, West Germany, and the United Kingdom.
An intensely private man, but also a bon viveur, the Ambassador liked to mingle with the "upper crust" of the French society and was good friends with writers F. Scott Fitzgerald and Ernest Hemingway.
This former resident knew how to enjoy an exceptional property on the French Riviera and his crest with the "American Eagle" above the bed in what is now bedroom suite no. 2.
Gardens and Surroundings
Chateau La Cima is surrounded by 4000 square meters of landscaped grounds. Besides the main garden, beautifully decorated with stone sculptures and an ornamental pond, the estate includes a 14-metre infinity pool tiled with mosaic, a Mediterranean vegetable garden and an orchard.
Elegant Interiors
With a vast living surface of about 500 square metres, Chateau La Cima offers the perfect balance between strong character and modern convenience. With 7 bedrooms, generous living and dining areas, a bespoke kitchen with luxurious fittings, wine cellar and provision for sauna or hammam, and separate staff accommodation, this property combines charming vintage details with contemporary solutions and offers the possibility to enjoy one of the finest living experiences on the French Riviera.
Price: On request.
For more information, please visit :
http://chateau-cima.com/
http://www.cotedazur-sothebysrealty.com/magnificent-porperty-with-sea-views-cf5037.html