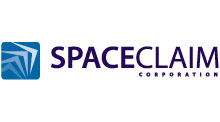 "Take the Red Pill - See The Truth About 3D Geometry"
Concord, MA (PRWEB) April 15, 2014
SpaceClaim, the leading provider of fast and intuitive 3D modeling software for engineers, announced today that SpaceClaim director of product management, Justin Hendrickson, has been chosen as a keynote presenter at this year's DEVELOP3D Live, taking place today in Warwick, U.K. Attendees will learn how SpaceClaim is accelerating product design, prototyping and development by taking 3D geometry from the domain of a select few to something accessible to anyone who needs it: in design, simulation, 3D printing, manufacturing - even sales and marketing.
"For years, Big CAD has dictated what engineers' processes looks like, who can work with geometry, and how companies can model, edit or repair in 3D," said Hendrickson. "Engineers no longer need to accept the limits of parametric CAD. SpaceClaim is bringing new innovations to 3D design: in modeling scan data, repairing and editing STL for 3D printing and pioneering real-time collaboration across PC and mobile using new cloud services."
According to Hendrickson, the majority of engineers still accept the limitations of CAD as limits on their flexibility, unnecessarily constraining productivity and innovation by limiting 3D model creation and editing of models to a select few in each organization. Further, the CAD experts typically have limited availability and experience in fields such as analysis and manufacturing. SpaceClaim Engineer and LiveReview, SpaceClaim's new live 3D collaboration system, allow engineers to work in 3D without first becoming CAD experts.
Engineers can visit SpaceClaim's website to begin a trial of SpaceClaim Engineer and LiveReview at: http://www.spaceclaim.com/en/trial.aspx.
DEVELOP3D Live 2013 takes place at the Warwick City Arts Centre in Warwick, UK. The free event explored the future of product development technology, tools and strategies.
About DEVELOP3D LIVE
DEVELOP3D LIVE is the UK's leading conference and exhibition celebrating design, engineering and manufacturing technology and how it brings world-leading products to market faster. Attendees will see over 30 exciting, relevant and fresh speakers while getting hands on with the latest technology to advance their workflow.
DEVELOP3D is a print and digital resource which tracks the essential technologies used throughout the entire product development process. With a globally respected editorial team, DEVELOP3D analyzes and disseminates emerging technologies while engaging engineers and designers and assisting them in their increasingly complex software and hardware selection process.
About SpaceClaim Corporation
SpaceClaim, the leading provider of flexible and affordable 3D modeling software for engineers, develops the best direct modeling solution for engineering and manufacturing. SpaceClaim's acclaimed software is easy to learn and use and is completely CAD-neutral. It enables engineers and other manufacturing professionals to rapidly create new designs or manipulate and edit existing 2D and 3D geometry, without the complexity of traditional CAD. SpaceClaim is privately held and backed by Borealis Ventures, Kodiak Venture Partners, North Bridge Venture Partners, and Needham Capital. SpaceClaim is a registered trademark of SpaceClaim Corporation. For more information on SpaceClaim, please visit http://www.spaceclaim.com.
###