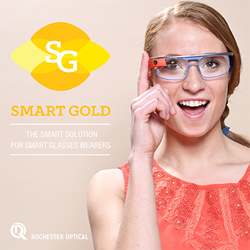 ...we're ready to provide the prescription frames and lenses for Google Glass.
Rochester, NY (PRWEB) April 15, 2014
Google announced today that anyone in the U.S. will be able to join the Google Glass Explorer program on Tuesday, April 15th, 2014, according to multiple news sources. Google confirmed this on their Google+ page.
"Today's announcement and confirmation was expected. We've been ready for Google Glass to be available not just here in the U.S., but worldwide for some time. Many are looking forward to experiencing this exciting advancement in eyewear and technology," said Patrick Ho, CEO of Rochester Optical.
Rochester Optical is an industry leader in digital vision. Their smart glasses offerings include a variety of prescription lens solutions that help users of Google Glass. Rochester Optical offers fashionable frames and special optimized lenses. These have been welcomed with open arms by users who are raving over them.
"This is a great next step for Google and the optical industry. There is a whole world out here waiting for Glass and other smart glasses that are fashionable and offer a new experience for the connected generation. I'm very excited for the eye care professionals. This is going to open a lot of opportunities for them," states Tim Moore, part of the Rochester Optical Digital Vision team.
Many customers have already benefited from Rochester Optical's deployment of GOLD prescription lenses used in smart glasses. "The digital vision space, particularly for the eye care professional, is about to take a quantum leap forward, and we're ready to provide the prescription frames and lenses for Google Glass," said Ho.
Eye care professionals can join the network of providers Smart GOLD lenses and Smart Frames here.
Rochester Optical is a diversified manufacturer of ophthalmic lenses, eyewear, and is a full service wholesale digital optical laboratory with over 80 years of experience. They continue to serve eye care professionals and corporate customers with an eye on service and innovation. Rochester Optical is an independently owned and operated optical lab and manufacturer, and is not affiliated with Google or Google Glass.
For more information:
Wendy Emerson
585-254-0022
wendy.emerson(at)rochesteroptical(dot)com
http://www.rochesteroptical.com