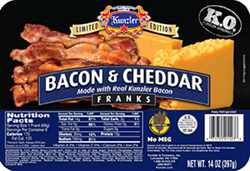 We are leading off our LTO franks with our Bacon & Cheddar frank made with real Kunzler bacon. These franks have a wonderful flavor and are sure to please all your hungry eaters.
LANCASTER, PA (PRWEB) April 16, 2014
Kunzler & Company is a leading manufacturer of fine meat products including hams, bacon, franks, pretzel dogs, luncheon meats celebrating 113 years in business! They are excited to kick off the summer grilling season with the introduction of 3 new franks - Bacon and Cheddar, Southwestern Style, and Buffalo Chicken.
The plan for these new products is to make them available for a limited time only. Each item provides a unique and bold flavor that appeal to all ages looking for something new in the hot dog and sausage category. All 3 are produced using only the freshest, high quality meats and premium ingredients that Kunzler is famous for.
The Bacon and Cheddar is made with Kunzler's Original Bacon and Real Cheddar Cheese, the Southwestern Style includes Roasted Red Peppers and Real Cheddar Cheese, and the Buffalo Chicken is made with all White Meat Chicken and a spicy robust buffalo sauce flavor. Each will be available for 2 to 3 month time periods beginning in May 2014. Packaged 6 to a 14 oz tray pack with a suggested retail of $3.49.
Founded in 1901, Kunzler & Company, Inc. is a 4th generation family business headquartered in Lancaster, PA. With three manufacturing facilities in Central PA, Kunzler & Company has earned its reputation as a leading manufacturer of more than 500 meat products. Today, Kunzler's products can be found in supermarkets, delicatessens, convenience stores, schools, theme parks, sports complexes, finer restaurants, and quality conscious kitchens throughout the United States. For more information on the complete product line visit Kunzler.com.