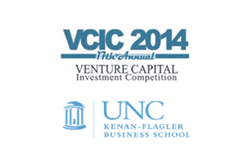 Chapel Hill, N.C. (PRWEB) April 15, 2014
Columbia Business School took home first place and $5,000 at the 17th annual Venture Capital Investment Competition® (VCIC), the premier competition for venture-minded and entrepreneurial MBA students hosted by the University of North Carolina Kenan-Flagler Business School April 10-12.
MBA student teams from around the world – the winners of 11 regional events in the United States, Spain, England, India and China – convened with entrepreneurs and venture capitalists for the global championship in Chapel Hill.
The Leeds School of Business at the University of Colorado Boulder won second place and $2,500. The UNC Kenan-Flagler team won third place and $1,000. The Marriott School of Management at Brigham Young University received the Entrepreneur's Choice Award and $1,000.
Teams also competed from the business schools at Boston College, University of California Berkeley, Yale University, Boulder, Oxford University, China Europe International Business School (CEIBS), Copenhagen Business School, Nanyang Technological University and UNC-Chapel Hill.
VCIC simulates the entire investment process. Students played the role of venture capitalists, heard pitches from real entrepreneurs, evaluated deals and invested in the most compelling business plan. Venture capitalists observed and judged the entire process. After the winner was announced, teams assembled for one-on-one feedback sessions with the judges, which VCIC alumni have reported as a valuable to their professional development.
"The teams gave compelling performances," said Patrick Vernon, VCIC director and executive director of the Center for Entrepreneurial Studies at UNC Kenan-Flagler. "To succeed the students had to apply what they have learned in their MBA courses— not just their business acumen but also skills in communication and negotiation and the ability build rapport with potential partners."
VCIC features a network of 50 events on three continents before it culminates in Chapel Hill. Started in 1998, the internationally recognized program serves over 1,500 individuals each year—1,200 MBA students from 60 top business schools, 175 venture capitalists and 125 entrepreneurs.
For more information, visit http://www.vcic.unc.edu/.
#
About the University of North Carolina Kenan-Flagler Business School
Consistently ranked one of the world's best business schools, UNC Kenan-Flagler is known for its collaborative culture that stems from its core values: excellence, leadership, integrity, community and teamwork. Professors excel at both teaching and research, and demonstrate unparalleled dedication to students. Graduates are effective, principled leaders who have the technical and managerial skills to deliver results in the global business environment. UNC Kenan-Flagler offers a rich portfolio of programs and extraordinary, real-life learning experiences: Undergraduate Business (BSBA), full-time MBA, Executive MBA Programs (Evening, Weekend and global OneMBA®), online MBA@UNC, UNC-Tsinghua Dual-Degree EMBA, Master of Accounting, PhD, Executive Development, and UNC Business Essentials programs. It is home to the Frank Hawkins Kenan Institute of Private Enterprise.