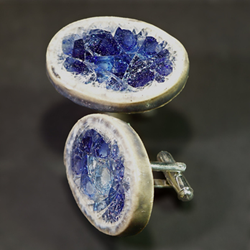 Living on the shores of the northwest coast, I was just in love with the natural beauty I found there. While exploring my new home, I began gathering discarded glass and realized I could melt it down, right into the pottery
Ferndale, WA (PRWEB) April 24, 2014
When it comes to adornment and expressions of beauty, nothing shines like the handcrafted work of those who cherish the planet. Shoppers at Paloma Pottery will receive 20% off ring holders and eco jewelry for a special Earth Day promotion lasting through Mother's Day. Paloma Pottery was founded 14 years ago with a mission to blend handmade artistry with environmental and social consciousness, and the combination has proven successful. Since then, Paloma has served hundreds of customers, offering sustainably produced goods for the body and the home.
From Earth Day to Mother's Day, shoppers can find excellent deals on unique, recycled glass art jewelry. Spring brings an abundance of festive events and occasions. Shoppers who want to freshen their look will find dazzling colors, shapes and designs to accent their personal style. Paloma Pottery boasts an impressive list of ethical business practices, and their craftsmanship bears the mark of endurance over time. Anything purchased from Paloma Pottery is sent using sustainable packaging provided by Distant Villages, and recycled shipping materials. Of course, ecological consciousness is embedded in their work ethic as much as shine and color are embedded in their pottery pieces.
Founder Nicole Whitney developed her revolutionary style back at the turn of the millennium, when environmental consciousness was rising to the forefront of consumer awareness. "Living on the shores of the northwest coast, I was just in love with the natural beauty I found there. While exploring my new home, I began gathering discarded glass and realized I could melt it down, right into the pottery," she recalls. The results are stunning. Solid clay bases cradle pools of reflective, shimmering glass with a smooth, sheer surface. The depth and radiance displayed in these pieces makes for truly beautiful art.
This jewelry discount offer is not just for ladies. Paloma Pottery offers earth friendly gifts for men as well. Cufflinks, lapel pins and earthy tones in strong ring designs are sure to please. Ring and jewelry holders also make wonderful gifts for men and women. The Paloma line covers a broad range of styles, from classically shaped, delicate coral blue holders, to bold and funky guitar-shaped ring holders.
Paloma Pottery has been celebrating the spirit of Earth Day since 2001, and provides shoppers with the chance to honor the body, their loved ones and the earth all in one online purchase.
About Paloma Pottery:
Paloma Pottery has been online for 14 years now, and the mark of endurance shines through its work. Continually improving and expanding her line, Founder Nicole Whitney has grown Paloma Pottery into a thriving artisan presence. For those who are seeking exceptional quality gifts with a unique, eco-friendly design as well as solid business ethics, Paloma Pottery is the place. For more information, please visit http://www.palomapottery.com or call 877-669-0783.