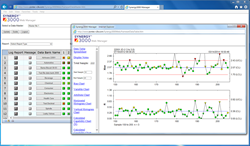 Cincinnati, Ohio (PRWEB) April 16, 2014
Zontec Inc., the international developer of Statistical Process Control (SPC) software solutions, today announced an update to its Synergy 3000 v 4.0 for its customers worldwide. "With the numerous Internet browsers available today, we felt we needed to increase our customers and prospects options as it relates to the Web components of our Synergy 30000 v 4.0," said Zontec President Warren Ha. "Manufacturers can now instantly access SPC data from remote locations and suppliers before the materials are shipped to their location. Saving companies from wasted shipping and production time to meet specified customer delivery requirements. This has a tremendous impact on a manufacturer's bottom line." Zontec is consistently releasing innovative capabilities for its product line so that users at all levels can increase productivity, reduce product defects, boost production rates, effectively manage production assets, and contribute to the ongoing profitability of the business.
Here are some of the new cutting-edge features:

Web Components of the product now run on multiple browsers such as Internet Explorer, Firefox, Google Chrome & Safari
Enhancements to the Web Operator and Web Master portions of the product
Accessible from iPhones and other mobile devices
Enhance Capabilities related to the Certificate of Analysis Report
And many more
###
About Zontec
Since 1983, Zontec has been providing statistical process control (SPC) software to industry-leading companies across the globe. Zontec is highly respected for its continued focus on innovation and for constantly integrating new technologies that help businesses address quality issues, strive for long-term continuous improvement, and maximize profitability. Zontec is unique in the industry by offering a full suite of products to meet the needs of companies of all sizes. Committed to an aggressive product development schedule, Zontec software is created, tested, documented and totally supported within the company without outsourcing. This gives Zontec complete control over product development of our products. If a service agreement customer decides to upgrade to the next level of the Zontec product suite, they can do so at minimal cost through our 100% Investment Retention program. They will be able to access all their previous data in the new product, minimizing production interruption. Zontec software has been adopted worldwide by more than 5,000 companies, spanning virtually every industrial category.