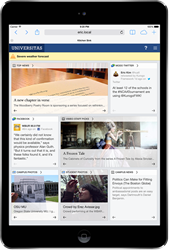 Scottsdale, AZ (PRWEB) April 22, 2014
Modo Labs, the leading mobile campus platform provider to universities and enterprises, announced the general availability of the latest version of its award-winning Kurogo™ Mobile Campus Solution. The new 2.0 release features multiple core enhancements that enables any user to create, upgrade and maintain comprehensive mobile solutions directly from a single desktop, and instantly and simultaneously deploy them across all mobile channels, including both mobile web and native apps. Kurogo Mobile Campus 2.0 also enables both developers and non-developers to create powerful and beautiful applications that enhance the user experience and increase user engagement in ways previously only possible by hiring expensive mobile consultants and developers. Kurogo powers the mobile presence of a broad range of institutions, from top universities to Fortune 500 companies.
As organizations address the challenge of ever increasing growth from both mobile traffic and their web properties, they are also struggling with how to effectively support many different user roles, multiple locations, and a proliferation of mobile apps. However, these challenges are expected to compound according to Gartner's 2014 Top 10 Strategic Technology Trends, as the growing variety of devices, computing styles, user contexts, and interaction paradigms will make "everything everywhere" strategies unachievable.
Modo Labs is the first platform to directly address this accelerating complexity and mobilization by putting mobile implementation and deployment capabilities directly in the hands of non-developers, while including a strategic mobile platform that allows extensions to address the unique needs of each customer. At the heart of the Kurogo Mobile Campus Solution is a Mobile Optimized Middleware™ platform that was originally built to access and quickly mobilize any data source, solving a host of problems from complex data integration and maintenance, to soaring mobile development costs. With the next generation Kurogo Mobile Campus 2.0, Modo Labs' mobile-first solutions provide every type of customer with a new set of tools to efficiently deliver a highly optimized user experience across all phone and tablet devices, by combining native app, HTML5 and responsive design technologies, to further reduce development costs and time to deploy.
"Modo Labs' Kurogo Mobile Campus 2.0 Solution provides our non-technical users and developers with the ease and flexibility to leverage mobile assets and responsive content, create highly customized mobile websites and apps fast, regardless of platform or device, and quickly accommodate our community's ever changing needs," said Ron Kraemer, Vice President and Chief Information and Digital Officer, University of Notre Dame. "As a result, our mobile development staff can focus on accelerating innovation, and stay at the forefront of mobile technology services."
"Kurogo Mobile Campus 2.0 is a reflection of our commitment to help customers build, maintain, and extend their mobile presence in the most flexible, rapid, easy, and cost-effective manner possible — without compromises. Now that 2.0 is released, the many new platform-wide upgrades will allow Modo Labs to advance the Kurogo Mobile Campus product line and its industry-leading functionality with even greater velocity," stated Stewart Elliot, CEO of Modo Labs.
Browser-Based Admin Console Simplifies and Extends Anywhere Access to Data
Kurogo Mobile Campus 2.0 has a new, user-friendly admin console that gives both developers and non-developers a simplified interface to help manage the application lifecycle. Completely browser-based, any type of user can access data sources, modules, layouts, navigation, theming, and much more. Notably, most data integrations can now be performed via the Kurogo Admin Console — without any coding required. These new capabilities let administrators perform a wide range of tasks, including:

Create, extend, modify and/or customize modules
Deploy, configure and manage multiple sites and roles within a single server
Implement URL or link modules
Define data sources and swap data feeds within a running mobile application
Update a visual theme across all platforms including iOS and Android apps
Leverage the new Edit capability to add sections and screens to modules
Multi-Channel Technology Generates Native Apps Automatically With No Additional Coding
Kurogo Mobile Campus 2.0 saves companies and organizations valuable time and significant development expense, as they are no longer required to write separate, proprietary code for native apps. Instead, modules created using Kurogo 2.0 automatically generate iOS and Android app versions -- without requiring Objective C or Java coding. Best of all, native navigation and the UI appearance are maintained, providing for iOS and Android apps that offer a truly native experience that users have come to expect.
Rapid, Highly Customized Modules
Reusability in Kurogo Mobile Campus 2.0 takes another leap forward as modules can now be easily linked together and grouped in their own navigation section, creating new topic specific modules for the user that are made up of multiple individual modules (e.g. The Athletics Module embeds and incorporates copies of the news, calendar, social and video modules). In addition, a new suite of core user interface components, including forms, maps, lists, tabs and many more, make creating screens for modules even easier. One of the hallmarks of Kurogo Mobile Campus - deep-linking between modules for seamless integration – is now a simple configuration option. To further improve Kurogo 2.0's code-sharing features, it is now possible to exchange modules independently of a mobile app through standalone system packages, greatly facilitating collaboration among Kurogo 2.0 users either within an organization or with other Kurogo customers.
"Top universities and enterprise companies already rely on the Kurogo Mobile Campus because their reputation and brand demand the best possible mobile presence. They use Kurogo Mobile Campus for its unique ability to streamline mobile app development while delivering an unparalleled user experience and level of engagement," said Andrew Yu, founder and chief technical officer of Modo Labs. "We're delighted to release the next generation Kurogo Mobile Campus 2.0. Its new features will empower our customers to further manage, extend, and enhance their mobile apps with an even greater level of ease and flexibility."
About Modo Labs
Modo Labs technology integrates with content from any source and presents it on any mobile device so users can easily deploy their mobile solutions fast. The Kurogo Mobile Campus is designed for clean integration, an exceptional user experience, a high degree of customizability, and fast user deployment. Over a thousand universities and organizations in more than 40 countries use solutions from Modo Labs to deliver rich mobile websites and native apps. As a partner with AT&T, AirWatch, MobileIron, Marketo, Oracle and many others, Modo Labs offers easy, fast, and real-time mobile engagement platform solutions and support services to help universities and enterprises leverage the growing demand for rich mobile experiences from their students and customers. Modo Labs is headquartered in Cambridge, MA. Interested parties can learn more about Modo Labs at http://www.modolabs.com.
Press Contact:
Carmen Hughes
Ignite Public Relations
w: 650.453.8553
c: 650.576.6444
Carmen(at)ignitepr(dot)com