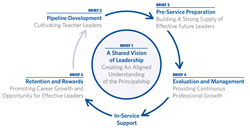 "There isn't a more important strategy to support effective teaching & student achievement than to focus systematically on successful school leadership." Richard Riley, former US Secretary of Education
New York, NY (PRWEB) April 16, 2014
New Leaders, Inc. is set to release their latest policy publication on April 16, 2014. Prioritizing Leadership: New Leaders' Federal Policy Platform is the latest in a series of policy, practice, and research publications available from the education non-profit.
Prioritizing Leadership outlines various vehicles federal policymakers can use to focus on the importance of school leadership. For ease of use, the series is divided into five distinct briefs: A Shared Vision of Leadership; Teacher Leadership; Preparation and Licensure; Continuous Professional Growth; and Retention and Rewards.
"Principals are critical to the success of any school improvement effort – from increasing academic rigor toward college- and career-ready standards to teacher evaluation and support," said Jean Desravines, CEO of New Leaders, Inc. "Given principals' essential role in any school-level reform, federal focus and investment in principals will pay dividends on improving teacher effectiveness and increasing student achievement."
This publication is informed by the latest research, lessons from implementation of New Leaders' own program continuum, and the work New Leaders' already undertakes with districts, states, and leadership programs across the country.
"There isn't a more important strategy to support effective teaching and student achievement than to focus systematically on successful school leadership. This report can help policy-makers act on this critical insight," said Richard Riley, former U.S. Secretary of Education.
New Leaders works to transform leadership in high-need, low-income schools by developing transformational school leaders and designing effective leadership policies and practices for school systems across the country. Through the work of recruiting, training, developing, and supporting teacher leaders and school leaders in their signature Emerging Leaders and Aspiring Principals programs, as well as the ongoing support we provide new principals through our Principal Institute, New Leaders recognizes the need for conditions to support effective leadership at scale. That is why New Leaders advocates for policies and practices related to principal and teacher effectiveness, human capital management, standards and assessments, and other measures so that schools across the country can benefit from principals who drive change in underperforming schools.
Prioritizing Leadership is the latest policy publication for New Leaders. Information on the other research and policy recommendations, as well as tools for implementing best practices with regards to leadership development, can be found at their website: http://www.newleaders.org/newsreports.
ABOUT NEW LEADERS
New Leaders is a national nonprofit that develops transformational school leaders and promotes the system-level conditions that allow strong leaders to succeed. Founded in 2000, New Leaders has trained more than 1000 school leaders who are raising student achievement and graduation rates in high-need schools across the country. Beyond its signature principal training program, New Leaders conducts leadership development with existing school and district administrators, and designs effective leadership policies and practices for school systems nationwide. For more information, visit http://www.newleaders.org.