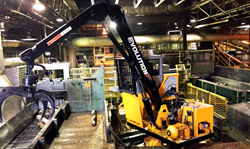 Tough handling Equipment
(PRWEB) April 17, 2014
The Rotobec Evolution Stationary Mount Loader (SML) was designed with your needs in mind. Whether you're in the forestry, recycling, scrap or waste industry, the Evolution SML will help you get the job done faster and cheaper than ever before.
The Evolution features a continuous 360° rotation, which allows you to do more with the space you have. Our heavy-duty booms are constructed of high resistance steel and are reinforced to ensure that your machine can handle the most extreme conditions.
The Evolution comes standard with a 100 hp High Efficiency electrical motor designed specifically to keep your operating costs to a minimum. The electrical system on the Evolution is CSA approved and provides unbeatable protection against the elements.
The cab of the evolution was designed with the operator in mind. The 54''x 60'' cab is mounted on anti-vibration rubber supports that provide a comfortable working environment. The evolution can be fitted with a 4000w heater with thermostat control and/or an air condition unit depending on your specific needs. The cab also provides the operator with an excellent view of the work area through large front, side and roof windows (tinting optional).
Rotobec understands that no one customer is the same. No matter what your unique need may be, we are proud to offer our customers full customization on all of our products!
Visit us at http://www.rotobec.com to check out the full line-up of Rotobec Stationary Mount Loaders.