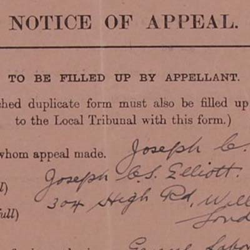 This event will explore the little known story of Willesden's conscientious objectors, local men who refused to kill for King and Country amid the greatest state organised mass slaughter the world had ever seen. - London historian Mike Berlin
(PRWEB UK) 16 April 2014
Recently digitised archives revealing the struggles and convictions of conscientious objectors during the Great War will be discussed at a free event organised by Birkbeck, University of London.
The origins, motives and courage of local men who refused to fight will be explained by London historian Mike Berlin at the session at Birkbeck's pop-up university in Willesden Green.
Berlin will share evidence from the Middlesex Military Service Appeal Tribunal from 1916-1918. These records have recently been digitised and made available online by The National Archives.
The event, called Willesden at War, from 6pm-8pm on Wednesday 7 May, is part of Birkbeck's pop-up university based in Queens Parade, Willesden Green.
Willesden's conscientious objectors
Berlin, of Birkbeck's Department of History, Classics and Archaeology, has examined the records of the Military Appeals Tribunals set up under the Military Service Act of 1916, which introduced conscription for all men aged 18-41.
He said: "This event will explore the little known story of Willesden's conscientious objectors, local men who refused to kill for King and Country amid the greatest state organised mass slaughter the world had ever seen. The conscientious objectors faced almost overwhelming pressures to conform and yet often courageously refused to bow to the law."
The Tribunals sat locally in Willesden and at Middlesex County Hall. The tribunal board consisted of local officials plus a military representative. Willesden's tribunal was overseen by Charles Pinkham J.P., the area's biggest property developer and the man who is credited with building Willesden as a suburb, and is remembered in a section of the North Circular called Pinkham Way.
One of the digitised records (pictured, above) refers to Joseph Elliott, 27, of Willesden Green. He was a laboratory attendant at University College London. He wrote: "To me all war is a crime and will only cease when men refuse to bear arms and therefore someone must start refusing, whatever the consequences."
Berlin added: "The Military Service Appeal Tribunal records provide unique and poignant insights into the motives of the conscientious objectors. It's impossible not to be moved by their stories. It is excellent that the National Archives have digitised this source in time for the Great War centenary. Their brave stand against War deserves to be remembered and I am excited that I will have the chance to make them known to a local audience."
Willesden at war
As well as describing the fate of conscientious objectors, Berlin will also explain the significance of Willesden's contribution to the war effort during World War One. As a fast-growing Edwardian suburb with a large number of new industries, Willesden was important between 1914-1918. Local men went off to the trenches and Willesden's factories employed thousands of young women workers.
Birkbeck's pop-up university
Talks and workshops about a wide range of subjects, from happiness to work, are taking place as part of Birkbeck's pop-up university – a three-month outreach initiative designed to offer residents the opportunity to explore new topics and find out about studying at Birkbeck.
Come find out how the city we live in, and the way in which we think about war and conflict, is still shaped by the events of 100 years ago. Book your free place at Willesden at War online.
For the digitised records from the Middlesex Military Service Appeal Tribunal visit The National Archives' website.
Notes to editors

If you would like to interview historian Mike Berlin, please contact Guy Collender at g.collender(at)bbk(dot)ac(dot)uk, 020 7380 3108).
Birkbeck is a world-class research and teaching institution, a vibrant centre of academic excellence and London's only specialist provider of evening higher education.
18,000 students study at Birkbeck every year. They join a community that is as diverse and cosmopolitan as London's population.
For more information about Birkbeck contact Guy Collender at 0207 380 3108, g.collender(at)bbk(dot)ac(dot)uk or visit http://www.bbk.ac.uk .