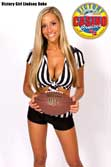 Lindsey Duke is the newest face for Victory Casino Cruises.
Cape Canaveral, Florida (PRWEB) April 17, 2014
In the last few months, interest in Lindsey Duke has increased to the point where more than 6 million people have searched for pictures of Lindsey Duke on Google. She made such a splash during her visit aboard Victory Casino Cruises in Cape Canaveral, Florida, that soon after her visit was made public, over a dozen pictures of her cruising were posted on Victory Casino Cruises' website. This has garnered a lot of attention for her and this popular cruise line and casino in Central Florida, making Lindsey Duke the newest face for Victory Casino Cruises.
It may sound odd that one Florida University girl has received so much attention from a few simple pictures, but the fact that she is UCF quarterback Blake Bortles' girlfriend may have a lot to do with it.
With the NFL Draft coming up, all eyes are on the top-ranking college football players. Blake Bortles is considered one of the top picks of the year, with one NFL coach going so far as to say that he is the "best of the bunch". All of the attention that he has received in the last few months has definitely enhanced his girlfriend's fame, and all of the attention she has been getting has helped his position in return.
More and more NFL coaches are paying attention to the man with the beautiful girlfriend, and some of them are considering signing her to be the face of the team. If they could sign Bortles, they'd get the beautiful blond bombshell to wear their colors--a definite win for the teams that rely heavily on marketing to a predominantly male audience.
That doesn't mean that the quarterback isn't deserving of his place in the NFL in his own right. He has performed admirably this year, though many coaches still believe he has more potential to be unlocked. If he could go the distance with his training, he could very well be the next Peyton Manning or Joe Montana.
But it's the beautiful Lindsey Duke that is stealing center stage with her good looks, and she is the one that has gone viral. You can see some of the Lindsey Duke pictures here to see the reason that she has won the hearts of American men.
As a team, Lindsey Duke and Blake Bortles truly do stand a chance of making it big. With her good looks and his skills as a quarterback, they deserve their place in the spotlight. Thanks to all of the attention his girlfriend has received, it's likely that Blake Bortles will go far in the NFL!