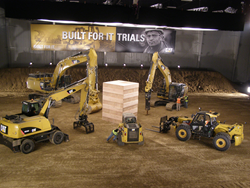 First in a series of two-minute films positions Caterpillar as a problem solver with a sense of humor and theater.
Fort Atkinson, Wisconsin (PRWEB) April 15, 2014
Caterpillar Inc. premiered a subtle but significant shift in its brand image in the first of a series of short films featuring the Built For It™ Trials. A preview of the two-minute film, initially offered exclusively through media partner, Cygnus Business Media, demonstrates Caterpillar's intent to set the capability of its machines in the context of a company that innovates with good-natured problem solving.
In the film, "Stack," five heavy equipment operators and their Cat machines toy with gravity using a tower of massive wood blocks weighing over 8 tons. The object of the game: remove blocks one at a time, replacing each of the 600-lb. blocks to raise the tower's height without toppling it. What ensues as the cameras roll is a show of operator skill, and machine power, strength and agility.
Archie Lyons, Creative Director for the Built For It Trials, said when the production team brainstormed script ideas for the challenges, the objective was to create visually interesting and fun films to watch. "We didn't think in terms of 'Can Cat equipment and the operators really do this?' because we didn't want to limit the possibilities," Lyons said, "Instead, coming up with compelling images to highlight machine features and benefits drove our creative process."
In the film, the operators, who boast 121 years of combined experience, operate five Cat machines: a 320E, TH514C, 277D, M316D and 349E. The operators take turns skillfully tapping, hammering, pulling, lifting and placing the large wooden pieces in delicate balance.
Challenges featured in the Built For It films range from the "extraordinary to the hardcore to the hilarious," according to Jim Kelton, producer of the films. "We set out to entertain our audience using Cat equipment as the star of the show," he said. "We wanted to educate too, of course—demonstrating the equipment's cutting-edge capabilities for precision and maneuverability by having these skilled operators put the machines to these ultimate tests."
CYGNUS BUSINESS MEDIA
As one of America's top business-to-business media companies, Cygnus Business Media reaches millions of professionals annually and leads the way in providing targeted content to top decision-makers and organizations.