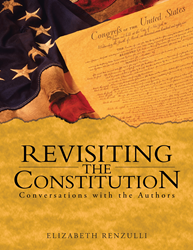 Tongue-in-cheek humor alongside simplistic explanations of each article and every section of the constitution.
Chambersburg, Penn. (PRWEB) April 17, 2014
Author Elizabeth Renzulli explores how great men such as Ben Franklin, George Washington, Alexander Hamilton and James Madison would feel about how today's politicians and judges are interpreting the Constitution of the United States.
In her book, "Revisiting the Constitution," Renzulli brings tongue-in-cheek humor alongside simplistic explanations of each article and every section of the document. Renzulli's book offers a new educational tool to educators and students by breaking down the complexity of the Constitution into simple understandings.
"Revisiting the Constitution" reads much like a story with historical figures turned into characters that have conversational dialogues and witty humor. Renzulli hopes to have her book become an entertaining way for students to learn the nitty-gritty details of the Constitution and our Founding Fathers in the most interesting and simplified way possible.
Renzulli also wrote this book with an older audience in mind while hoping to appeal to today's politicians. She wants the people of today to have a strong understanding of what the original meanings of each amendment were in hopes that there will be a decrease in how parties are currently contorting the Constitution.
"I wanted to reach as many people as possible with a simple to understand view of the Constitution and hopefully instill in them a healthy respect for the effort that went into its creation," Renzulli said.
"Revisiting the Constitution"
By: Elizabeth Renzulli
ISBN: 978-1-4908-1201-4
Retail: $7.99
Available at Amazon, Barnes and Noble Booksellers and WestBow online bookstores
About the author
Elizabeth Renzulli is the mother of five children. She is a retired high school English and social studies teacher from Sullivan West CSD in New York. Before her teaching career, Renzulli was a string reporter and feature storywriter for the Sullivan County Democrat. After retirement, she taught classes for the Lifelong Learners in writing and the Constitution. Renzulli currently lives in Chambersburg, Pa.
# # #
**FOR IMMEDIATE RELEASE**
EDITORS: For review copies or interview requests, contact:
Spencer Hotz
317-602-7137 | shotz(at)bohlsengroup(dot)com
(When requesting review copies, please provide mailing address.)