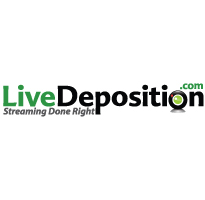 The ability to connect seamlessly to anyone, anywhere in the world from the comfort of their office or home through a simple click of a link is the foremost benefit we found with LiveDeposition.com
Los Angeles, CA (PRWEB) April 16, 2014
LiveDeposition.com, a leading provider of deposition streaming solutions for the legal industry, has announced today the addition of one of their newest clients, CRS Court Reporters and Video (CRS).
CRS will be using LiveDeposition.com's web-based streaming solution to provide clients in the legal community with a simpler, more cost-effective way to remotely participate in depositions and legal proceedings. Specializing in Patent, Intellectual Property, Technical, Medical, Construction and Arbitration, CRS has been providing court reporting and videographer services to the San Jose/San Francisco area since 1980.
When asked what attracted CRS to LiveDeposition.com's web-based streaming solutions and how their clients will benefit, Linda Pugliese, Owner of CRS stated, "The ability to connect seamlessly to anyone, anywhere in the world from the comfort of their office or home through a simple click of a link is the foremost benefit we found with LiveDeposition.com. Coupled with that, being able to view a witness and real-time text streaming on equipment they already own at a fraction of the cost of videoconference rooms is another major benefit. My customers always expect CRS to offer the very latest in technology, as well as any means to reduce their costs."
With their Local Realtime and Remote Realtime solutions, LiveDeposition.com gives legal teams the tools they need to participate in depositions from any location. Whether on-site at a deposition location or on the other side of the world, legal teams can receive realtime deposition streams without the hassle of downloading or installing software from their desktop computers, laptop computers, or even their iOS, Android and Kindle Fire Mobile Devices, using the LiveDeposition.com Mobile App.
"Being the leading software provider for the court reporting industry to remotely stream realtime depositions, our clients count on us to provide them with cutting-edge technology that not only exceeds the needs of their clients in the legal community but is also easy to connect to and use." stated Steven Genter, Director of LiveDeposition.com. "We are delighted to welcome Linda Pugliese and the staff at CRS to the LiveDeposition.com family and look forward to many successful depositions."
About LiveDeposition.com
Headquartered in Sherman Oaks, CA, LiveDeposition.com is powered by MegaMeeting.com, a long-time resident of the video and web conferencing industry. Through their cutting-edge technology, LiveDeposition.com provides the Legal Industry with local and web-based streaming deposition solutions, as well as online video conferencing services. Being exempt from typical download and installation requirements, LiveDeposition.com has proved itself to be a hassle-free way to stay connected, allowing court reporting agencies, court reporters, paralegals, industry experts and legal teams to streamline the litigation process and conduct real-time depositions and online meetings. LiveDeposition.com works on all internet browsers and offers mobile apps for iOS, Android and Kindle Fire users, making its state-of-the-art solutions easily accessible via PCs, Macs, iPhones, iPads, as well as all Android enabled tablets and smartphones.
For more information on LiveDeposition.com please visit http://www.livedeposition.com or call 888.337.6411.