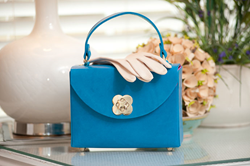 "Annette has brought to life a stylish translation of classic handbags in the form of vibrant colors, eye-catching patterns, and quality craftsmanship," explained Huynh-Sison.
Killingworth, CT (PRWEB) April 16, 2014
Pink Tulips founder, Annette Cook, re-launched her handbag design company early 2014, spending months aggressively fine-tuning her business to prepare for growth. Cook started her business on Valentine's Day in 2010, fueled with the entrepreneurial spirit of her great-grandfather, Joseph Sachs, a prolific inventor who patented the pull down fire alarm and the fuse. The East Coast native made her first handbag using the skills she had mastered in floral design, sewing, and bootstrapping.
"I'm smitten with the finer things that celebrate identity and have always had a persnickety attention to detail," said Cook. "My dream has always been to offer the best in timeless style, quality, and craftsmanship to the modern woman."
With the help of East Coast boutiques, Pink Tulips caught the attention of kitschy fashion-forward retailer, Urban Outfitters in 2012, which did indeed bring the handbag designer front and center to modern women. After laboriously fulfilling the orders requested by Urban Outfitters, Cook knew it was time to take Pink Tulips to the next level and sought out Cathe Huynh-Sison, owner of CHD, a San Francisco boutique design studio. Armed with an award-winning designer like Huynh-Sison, with 18 years of industry experience in identity development, print communications, branding, and interactive/web development, Annette was confident she had found a designer that complimented her vision for Pink Tulips.
"Annette has brought to life a stylish translation of classic handbags in the form of vibrant colors, eye-catching patterns, and quality craftsmanship," explained Huynh-Sison. "It's my goal to help grow brand equity and working with Annette has been a really fun process."
As the branding process progressed, the need for a "face" to represent the brand seemed a natural next step. Cook toyed with the idea of creating a fictitious face for Pink Tulips as the relationship between a woman and her handbag goes way beyond the stitching and fashion forward design.
"We call her Lily. She is real in the sense that she has ups and downs, fantastic days and rock bottom moments – she is a complex, modern woman," said Cook. "There's a bit of Lily in each of us, I think, and at some point in time we all live vicariously through the adventures of a friend or admiring certain lifestyles from afar."
Cook went on to explain that taking a peek into the life of another's fate is often enough to refresh and remind us that a passion lives on inside us not necessarily defined by our surroundings. The Pink Tulips blog, called Lily's Journal, is a peek in the life of that imaginary woman who, Cook says, "We can all relate to in some way."
Lily is gathering quite a following according to Cook who says women of all ages identify with her musings and experiences. Lily posts new entries regularly and keeps up to date with fashion, is happy to share her innermost thoughts on the struggle she has with being "perfect", and just like other women, has friends, Facebook, and the more than occasional hankering for chocolate.
"Live vicariously," the brand's tag line, even creates product descriptions which serve as mini journal entries that include "destinations" to give the consumer a real life visualization of where she would carry the bag.
"The product "story" serves as a way for the consumer to visualize herself going about her day accessorized with a Pink Tulips handbag," said Huynh-Sison. "We also expand on the name of the bag (various flowers) by emphasizing copy in red that reflects words that define the flower."
For example, orchid means "refined", violet means "happiness"…
Visualizing you and your handbag at the farmer's market and hot yoga or the Louvre and a weekend in Vegas, the branding has taken on a life of its own. Cook is determined to fulfill her dream of providing timeless style and quality craftsmanship to modern women all over the world. This "hot-blooded" response, Cook explains, "is something only a handbag can bring a woman" and playfully boasts that the love a woman has for her favorite handbag is the only appropriate affair acceptable in the world.
For more information about Pink Tulips, visit pinktulips.biz.