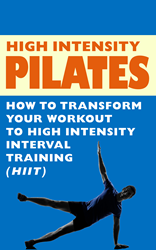 Best of all it only needs to be done 1 or 2 times a week for maximum benefit.
Northampton, MA (PRWEB) May 13, 2014
According to The American College of Sports Medicine, HIIT is the top fitness trend of 2014. And for good reasons.
-HIIT increases our levels of HGH (Human Growth Hormone) better than other exercise. HGH is key to burning fat and fighting many of the effects of aging (1).
-HIIT increases calorie-burning after exercise better than other exercise (2).
-HIIT increased fat-burning 3 times more than other aerobic exercise in less time (3).
-A new study out of Australia just found yet another benefit: fewer calories consumed over 36 hours after an HIIT workout. "Intense exercise may suppress ghrelin, a hunger-stimulating hormone," says Aaron Sim, Ph.D and lead author of the study (4).
This exercise technique alternates brief periods of speed and rest. You can turn any workout into HIIT without any equipment or special instruction. If you bike or swim or jog - whatever you do for exercise - simply do short bursts of intensity (sprint for 15 seconds) followed by a period of recovery ( jog for 1 minute). Best of all it only needs to be done 1 or 2 times a week for maximum benefit. However, it's only safe for the healthy body - talk to your doctor before trying it.
PilatesLessons.org just released its newest instructional ebook showing you how to add HIIT to Pilates. "High Intensity Pilates" is HD video, photo, and text instruction by the advanced certified Pilates instructor Bob Hannum.
Bob Hannum M.Ed is the author of several books, videos, and articles featuring the original athletic Pilates style of mat exercise. His company, PilatesLessons.org offers free beginner lessons online, and free daily exercise news, tips, and motivation at Facebook.com/PilatesWithBob. He has been teaching people of all ages and fitness levels for nearly 40 years, and his teacher is the 'Pilates Elder' Mary Bowen.