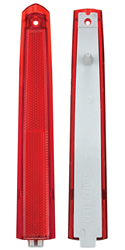 (PRWEB) April 17, 2014
Original Parts Group, Inc. knows that broken or damaged rear bumper reflector lenses can really detract from an otherwise excellent restoration. That's why OPGI offers the only factory-correct reproduction Bumper Reflector Lens for the '74 to '76 Cadillac Eldorado available on the market. OPGI's reproduction rear bumper reflectors are manufactured to original GM specifications and feature an original-style plastic backing strip for added strength and rigidity. OPGI's Eldorado reflector lenses are also injection-molded using factory original, red acrylic for a truly authentic appearance. The rigid internal plastic backing plate ensures a bright reflective surface, and correctly positioned locating pins and mounting holes ensure a hassle-free fit.
OPGI's reproduction Rear Bumper Reflectors for the 1974 to 1976 Cadillac Eldorado are sold as individual reflectors for $54.99 each as Part Number CE11365, and as reflector pairs for $98.99 as Part Number CE11365-PR.
Original Parts Group, Inc. is your GM restoration and performance source! Celebrating over 32 years of manufacturing and retailing the highest quality restoration parts and accessories, OPGI is recognized as the nation's number one supplier and manufacturer of classic GM parts and is committed to maintaining that reputation and serving the needs of its customers for years to come. For more information, visit OPGI.com or call toll free: 1-800-243-8355.