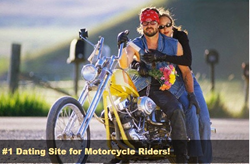 Los Angeles, California (PRWEB) April 16, 2014
Nothing outruns the feeling of being able to spend your time on what you love. For bikers, the most exciting thing is to take a ride down the road and enjoy the freedom along the way. However, road trips do take time, and not every biker has the time to do that. So how do bikers usually deal with this issue? BikerKiss.com recently did such a survey among its members. It has also been heatedly debated on BikerKiss forum.
More than a thousand members were polled on this subject. The most common answer from bikers is to ride their motorcycles to work. That way they can work and enjoy riding at the same time. But there are some bikers who disagree. Their opinion is that when riding on the same road becomes a daily routine, it's just not fun any more.
There are some bikers who love riding so much that they choose to call in sick to skip work once in a while. They think to steal some time out of work and ride with a few buddies can be even more exciting. "As a motorcycle enthusiast myself, I do not encourage this kind of behavior," said Edward Page, marketing department manager of BikerKiss.
Some bikers run their own business so they have no trouble allocating their time. "This is what I like about my current work. I get to spend a lot of time on things I like. If I get up in the morning and the idea of riding to the countryside springs to mind, I won't hesitate doing it." said Steven1006, a gold member on BikerKiss.
Meanwhile, some bikers consider it not important. "It doesn't kill me if I can't ride for a week or two. It's just something I like, not something I can't live without. I ride when time allows."
Visit http://www.bikerkiss.com/ for more.
About BikerKiss:
BikerKiss, one of the SuccessfulMatch.com networks, is world's first, largest and most effective biker dating site for biker singles who are looking to meet other biker friends. It is a best place for bikers and friends to get to know each other, establish relationship and talk about their interests, or to help each other.