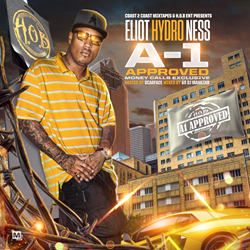 I love music and would not stop it for nothing, it's my life.
Houston, TX (PRWEB) April 16, 2014
Coast 2 Coast Mixtapes announce the release of the "A-1 Approved (Money Calls Exclusive)" mixtape by Eliot "Hydro" Ness. The 26 track project is currently available for download. The mixtape is presented by Coast 2 Coast Mixtapes and H.O.B Entertainment; hosted by Scarface and Lil Fats; features appearances from Scotty Boi, T Berry, DJ Sky High, Niq, Paul Wall, E Digitul, Kadillac, Yung Redd, Jo Jo, Klutch, Smit D, Willean, Charlie Franks, Lil Barry, E.S.G, Playa Dre, T Mack, Fat Mack, Tati P, and Big Baby; as well as production by T Berry, Eliot Ness, E Digitul, Worm, Mirawge, and Young B Seale.
Eliot "Hydro" Ness is a Hip Hop artist from the mean streets of South Side Houston, Texas. Growing up with the struggles of having limited resources and the temptations of the street life, Hydro realized that music was his only way out. Constantly keeping his pen to the paper developing his craft since High School, Hydro slowly gained the respect of his neighborhood now recognized for his raw talent, inextinguishable drive, and passion for Hip Hop music. The younger brother of the infamous rapper and actress The Lady of Rage of the Dogg Pound, Hydro used his skills and network to create music with many of the top artists representing Houston Texas and the surround area. Now 31 years young Hydro has the drive, talent, and team needed to make his mark on the music industry building his legacy one day at a time.
Eliot "Hydro" Ness used his hustler state of mind and passion for music to work his way onto the H-Town underground Hip Hop scene founding H.O.B., also known as Hustlaz on the Block, back in 2012 to present his talents and skills to the world. Soon opening for the likes of Juvenile and Lil' Flip as well as producing a show with The Lady of Rage and Yo-Yo, Hydro has become a strong contributor in his local and regional music scene. Recently working with DJ producer Mike 5000 Watts, Hydro's music is currently playing on his radio station, 97.9 The Box Houston, Jango.com, TSU, and other college stations in the Houston, Texas area. The "A-1 Approved (Money Calls Exclusive)" mixtape, presented by Coast 2 Coast Mixtapes and H.O.B., is a testament to Hydro's hard work and influence in the Houston scene. Hosted by Houston local and Geto Boys member Scarface, this mixtape features a who's who of up and coming rappers. If you are looking for a mixtape that encompasses the Houston sound with a huge variety of talent textured throughout the project, Eliot "Hydro" Ness' "A-1 Approved (Money Calls Exclusive)" is a must listen. Check out Hydro's new video for his hit single "Cadillac" featuring Niq and Paul Wall.
About Coast 2 Coast Mixtapes
Coast 2 Coast Mixtapes are the most widely distributed mixtapes in the world, with over 100 million downloads/plays generated by over 200 volumes officially hosted by major artists. Coast 2 Coast has a solid reach in the new music industry with a digital magazine, DJ coalition, industry tips blog, yearly convention, and more. Coast 2 Coast Mixtapes represents a unique opportunity for artists of all urban genres, from major to indie. For more information, visit http://www.coast2coastmixtapes.com.