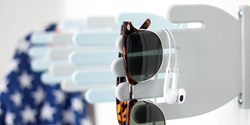 In this case, silliness was the mother of invention.
San Francisco, CA (PRWEB) April 16, 2014
A Happy Project has released its first product on IndieGoGo for crowd funding: 5FIVE, the world's first high fiveable thing holder and smile maker. Lots off silly and practicality rolled into one little hand on your wall. All in time for National High Five Day, April 17th 2014.
Yes, National High Five Day. It really exists. A Happy Project launched 5FIVE this April in celebration of National High Five Day, a day to consecrate the glory that lies in the high five. The 5FIVE is a great replacement for the traditional coat rack, perfect for a kid's room or corporate break rooms (an international clothing line is putting them in their offices around the country). It is also a coat/tie/hat/glasses/scarf hanger, cable wrangler, key dangler and (if your rings are 9+) a ring placer.
The 5FIVE got its start in 2006 when its creator, Andrew James Benson (a Creative Producer and Director) made a series of cardboard hands mounted to weathered wood as Christmas gifts for some friends. After years of watching people gleefully interact with these silly little things, he was inspired to take the idea forward. In this case, silliness was the mother of invention. Working with a team of skilled product designers, engineers and manufacturing specialists, the 5FIVE was born and is now ready to become a real product.
Made of FDA approved materials the 5FIVE is a hand that mounts to your wall and can receive your high fives when you need a little positivity or hold your things, when you need an extra hand. To cover the expensive costs of tooling and manufacturing a first run, the team is crowd funding it with pre-orders on IndieGoGo.
You can support the campaign here: http://igg.me/at/5FIVEME/x/5606959.
5FIVE is a product of A Happy Project, a company whose mission is to create products that make people happier and/or smarter.