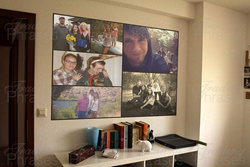 Removable Photo Wallpaper is the perfect alternative to traditional photo hanging methods. There is no damage to walls.
Columbus, Ohio (PRWEB) April 16, 2014
Trading Phrases is proud to announce their new removable adhesive Photo Collage Prints. Featuring treasured memories arranged in an attractive setting, the prints are affordable alternatives for dorm rooms, apartments, and homes. The prints are a quality alternative to traditional framed or canvas photos, and can be repositioned with ease, without affecting wall paint.
Trading Phrases asked their customers what elements they desired most in home design, and found an overwhelming majority used photos in décor. The company then designed the Photo Collage Prints on adhesive fine art fabric, making them removable, repositionable and damage-free. Made from non-toxic water based inks, the collages feature favorite photographs in brilliant color. The result is photo wallpaper that is unique and eye-catching. As one of the online leaders in decals, Trading Phrases designed this wall collage poster to match everyone's needs, from a dorm-dwelling student to a new parent decorating a nursery. Unlike framed photographs, Photo Collage Prints adhere to the wall, which means they can used above a baby's crib or in a dorm without nails or other destructive devices. Since 2008, the company has been providing home decor enthusiasts high quality decals and art, with over 60,000 decals sold.
"We're in the business of making people love their homes, and we believe this exciting new addition to our product line will help individuals enhance their walls with warmth and personality," stated Morgan Battisti, a spokesperson for Trading Phrases. The company's original decals also pair well and enhance the Photo Collage Prints, and Trading Phrases currently offers over 4,000 unique and exclusive decal designs. Consumers can now purchase the Photo Collage Prints at the company's website.
About Trading Phrases
Trading Phrases is a premier home décor company providing chic and affordable wall decals. Based in Columbus, Ohio, they specialize in creating stylized lettering for homes and businesses.