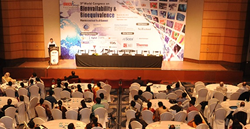 Innovative Approaches of BA/BE to Revolutionize the Next Generation Medicine
Los Angeles, CA (PRWEB) April 18, 2014
BABE-2014 is all set to explore the innovations, advancements in the field of pharmaceutical industry, which shows significant impact on the development of new and improved generic drugs. These changes need to be critically observed, discussed and critiqued prior to adoption. BABE-2014 would offer a suitable venue for the scientists, Healthcare institutions, Pharmaceutical regulatory agencies, Biotech and Clinical Research Organizations to take stock of the developments in this field.
Important scientific sessions of 5th International Conference on Bioavailability and Bioequivalence include: Emerging Bioavailability and Bioequivalence Studies, Bioanalytical Methodology, Contemporary Challenges of Drug Design, Discovery and Development, Regulatory Policies, Procedures and Prerequisites for Clinical Research, Managing Bioavailability and Bioequivalence Studies, Relevance of Genetics to BABE in Drug Development, Bioavailability, Bioequivalence and Drug Product Selection, Advances in Assessment of Bioequivalence, Need for Conducting BABE Studies, Metabolic Pathways and Challenges in Nutrient Bioavailability, Clinical Pharmacokinetics, Clinical Pharmacology and Therapeutics, Translational Research and Drug Discovery Biology, and Chronopharmaceutics: Germane Approach to Drug Delivery.
Organizing Committee Members Include: Wolfgang Sadee, The Ohio State University, USA; Diane J Burgess, University of Connecticut, USA; Lakshmi Putcha, NASA, USA; Sean Zhang, Sino-American Pharmaceutical Professionals Association, USA; Mirko Diksic, McGill University, Canada; Mohammad Khalid Parvez, King Saud University, Saudi Arabia;
BABE-2014 Organizing Committee said that the conference is also hosting the 'Young Researchers Forum', with a view to provide the young researchers a chance to meet and discuss research topics and methodologies.
OMICS Publishing Group publishes 350 online open access journals in the field of clinical, medical and life sciences, including management, engineering, technology, and pharmaceutical, with an aim to provide free access to healthcare information. OMICS Group organizes over 100 international scientific conferences across the world every year. OMICS Group enjoys the support of 30,000 editorial team members and 3.5 million readers.
OMICS Group aims at delivering unlimited B2B opportunities for making business deals, product enhancements, cutting edge solutions for improving and elevating company's business and partnerships. OMICS Group Conferences strive to unite the leading industry professionals, business development executives, institutional investors, capitalists and corporate investors. This also arranges exclusive One-on-One meetings with elite business representatives and thereby provides access to the global business community.
For any further information contact
John Benson
BABE-2014 Organizing Committee
Pharmaceutical Conferences
5716 Corsa Ave, Suite110
Westlake, Los Angeles
CA-91362-7354, USA
Ph: +1-888-843-8169
Toll No +1-800-216-6499
E-mail: babe2014(at)omicsonline(dot)us