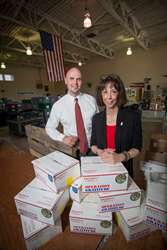 We're doubling down. It's an opportunity to take our efforts to the next level, and to thank even more troops and veterans for the sacrifices they make to protect freedom around the world.
Encino, Calif. (PRWEB) April 16, 2014
Operation Gratitude has delivered 1 million care packages to U.S. troops — and counting. But the nonprofit organization isn't taking any time to rest. It's ramping up its efforts, professionalizing its approach to managing a network of tens of thousands of volunteers, and launching a nationwide initiative to provide connections to home for the many thousands of men and women who have served and continue to serve globally.
"We're doubling down," said Operation Gratitude founder Carolyn Blashek. "We delivered our one millionth care package in December, and as we reflected upon that accomplishment, we concluded that this is an important turning point. It's an opportunity to take our efforts to the next level, and to thank even more troops and veterans for the sacrifices they make to protect freedom around the world."
The new initiative is highlighted by several significant actions designed to raise national awareness of Operation Gratitude (http://www.OperationGratitude.org) and transform it into an even more effective means by which a grateful nation can thank those who serve. Among these steps are the hiring of new professional team members, the creation of a national advisory board, creation of a national network of veterans, and a new outreach effort to reconnect the organization with volunteers and supporters who have helped Operation Gratitude in the past.
"This is going to be an exciting time for Operation Gratitude," said Chris Clark, the organization's new National Chief Development Officer. "Carolyn Blashek puts her heart and soul into letting our troops know they are remembered and appreciated by the American people. These new initiatives will nationalize that heart-and-soul effort, and help us better leverage the efforts of our vast network of volunteers to do the greatest amount of good for the troops."
"Chris is a key addition to our team," Blashek said of Clark, a seasoned nonprofit executive who over the past decade has raised more than $20 million on behalf of nonprofit organizations including the Special Olympics and the YMCA. "His experience and knowledge are immensely valuable, and his enthusiasm is contagious."
Clark said the new initiative is already getting under way.
"We're forming a national advisory board, which will help steer the organization's efforts, and we're seeking influential leaders who are passionate about supporting our troops," Clark said. "This group will have a tremendous impact on elevating Operation Gratitude's national profile."
Operation Gratitude is also establishing a network of veterans who have received assistance from the organization and wish to help it benefit those who follow them in military service. "This group will give us tremendous insight, and help us create programs that will have the strongest positive impact on our troops," Clark said.
Blashek added that the organization is reaching out to past volunteers and supporters, seeking to reconnect and renew individuals' commitments to support the troops.
"Our most powerful resource has always been, and always will be, our network of volunteers and generous supporters," Blashek said. "We're thanking them for their past support, and also encouraging them to make a new commitment to bring a slice of home to those who serve our country."
Operation Gratitude was founded in 2003 to send care packages of donated items and say "Thank You" to the troops. The California-based organization has blossomed, sending approximately 150,000 care packages annually to deployed service members, their children at home, veterans, new recruits, wounded warriors, caregivers and first responders. Care packages typically include handmade items, messages of appreciation and $75 to $100 worth of donated goods. It costs about $15 to assemble and ship each package.
Blashek said it's always important, even during times of relative peace, to let those who serve — and have served — know they are not forgotten.
"There's a bit of a misconception out there that the need for our expression of gratitude is diminished, since hostilities are winding down on one front or another," Blashek said. "But that's an incorrect assumption. The need remains as much as ever. At any given time we have tens of thousands of men and women serving their country overseas, many of them in harm's way, and many more stepping forward every year, entering the military to dedicate the next several years of their lives to the defense of our nation."
She added: "We need to let them know we care about them, we respect them, and we appreciate the sacrifices they make, every day, to protect us here at home."
About Operation Gratitude: The nonprofit organization (http://www.OperationGratitude.org) annually sends 150,000-plus care packages filled with snacks, entertainment, hygiene and hand-made items, plus personal letters of appreciation, to veterans, new recruits, first responders, wounded warriors, care givers and to individually named U.S. service members deployed overseas. Its mission is to lift the spirits and meet the evolving needs of our active duty and veteran communities, and provide volunteer opportunities for all Americans to express their appreciation to members of our military. Each package contains donated product valued at $75-$100 and costs the organization $15 to assemble and ship. Since its inception in 2003, Operation Gratitude volunteers have shipped more than One Million Care Packages.