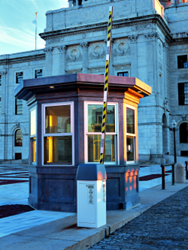 Los Angeles, CA (PRWEB) April 16, 2014
B.I.G. Enterprises, Inc. (http://www.bigbooth.com) designed and manufactured an architecturally compelling, custom guard booth for the State House building in Providence, Rhode Island. The model named The Rhode Islander is a stalwart first line of defense, presenting an attractive interface that is visually compatible with the current House building which was completed in 1904.
With an understated, yet beautiful exterior finish of durable, lead-coated copper, the booth's octagonal design honors aspects of the rare, yet regionally-distinctive octagonal building style popular in mid-nineteenth century. At least thirty octagonal structures were documented in Rhode Island; many are standing today. The attractive design also gives security personnel at this checkpoint a 360° view of the surrounding area.
Critical assets, including state and federal buildings need flexible, cost-effective perimeter security solutions, and B.I.G. Enterprises' robust guard booth designs help support the security mandates that are a part of the new normal in sensitive areas.
The Rhode Islander unit meets all state building and energy codes, and complies with ADA access requirements. The unit comes with high-output HVAC system to provide optimal climate control, and the interior is finished with solid-surface counters, ergonomically efficient work areas, and stylish lighting. In addition, like most B.I.G. pre-fabricated shelters, The Rhode Islander comes pre-wired for data and communications systems. B.I.G. booths are essentially 'plug-and-play'.
For over 40 years, B.I.G has worked with designers, engineers, and end-users to craft security booths that are as tough as they are attractive. B.I.G. design experts have developed aesthetically-pleasing models for such diverse groups as: Special Forces departments, the Smithsonian, nuclear plants, airports, chemical plants, and all divisions of the U.S. Armed Forces.
"With our custom guard shelters and security booths there is no trade-off between form and function – we will take on any design project, no matter how challenging, and we can manufacture designs to complement any building's unique style, from classical to modern - we do it all."– David King, B.I.G. Enterprises
About B.I.G. Enterprises:
Since 1963, B.I.G. Enterprises, Inc. of California has engineered and manufactured a comprehensive line of high quality, high-end, prefabricated security and revenue control booths. Their state-of-the-art selection of pre-assembled buildings include: guardhouses, cashier booths, portable shelters, and a variety of custom-made kiosks.