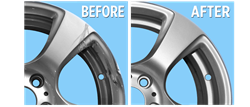 Unique Restorations advises car owners to be very careful when they are shopping for aluminum wheel repair services.
(PRWEB) May 08, 2014
According to an article published by News 12 New Jersey on February 19, 2014, "The harsh New Jersey winter this year means costs to maintain the state's roadways is skyrocketing, and that includes reimbursing drivers for damage to cars that have fallen victim to potholes."
In New Jersey, aluminum rims can be easily damaged by crashes, curbs and potholes. Further, the act of driving itself can damage the surface of wheels as stones and dust create scratches and wear in the wheel's finish. In the worst case scenario, potholes cause total damage, which can necessitate replacement with a brand-new wheel. This can be very expensive as new rims can cost as much as $800 each, especially for luxury cars.
Up until recently, car owners would dispose of their damaged alloy wheels and buy new ones from dealerships or used from junk yards. New wheels can be expensive and used wheels can be bent or have other damage not visible.
Unique Restorations provides car owners with a better solution by offering top notch aluminum rim repair services. On their website, it explains how they restore damage caused by potholes in style. During a visit to their service center, customers will be helped by trusted, expert repairmen with many years of experience in alloy wheel restoration. Even though rims are quite sturdy, they do require expert and nimble hands to work on them.
Unique Restorations understands too well that quality aluminum work can be expensive. However, they have been doing everything possible to ensure that clients don't pay more for their services. The company is determined to provide car owners with the best value for their money. They continue to improve their business in an effort to make rim repair services more effective and cost efficient.
Unique Restorations Services Include:

Damaged wheels repaired to factory specifications through a specialized heat process to straighten bends.
Scratched, gouged or chipped rims are filled with quality aluminum, producing a repair that looks brand new and is guaranteed to last through the long haul.
State-of-the-art straightening machinery that guarantees vehicle wheels stay straight and true.
Advanced balance machines that simulate road pressure to ensure wheels are steady and ride smoothly, even at high speeds.
An optional powder coat, in any color, to give the rim a distinctive appearance.
A finishing polish, to produce that awesome, brand new look.
No one wants to drive a car with scratched or chipped rims; it not only looks bad, but it also makes them vulnerable to environmental attacks, which can lead to rust, faults and corrosion. The last thing any smart car owner wants to drive on is a faulty wheel. Having the damaged aluminum wheels restored at Unique Restorations is not just about vanity: it is one of the most essential aspects of taking good care of a car's safety.
Unique Restorations assures customers that with expertly restored rims, no one can tell the difference between new wheels and their repaired ones – as they all look the same. In short, they call it, "a little secret known only by you, your technician and your wheels."
About the Company:
Unique Restorations is an alloy wheel restoration specialist located in New Jersey. In fact, the company prides itself of being the only facility in the state that is well equipped to do all work in-house. With the latest and most sophisticated equipment installed, they perform quality work on all damaged rims brought to their facility. At Unique Restorations, high quality service comes at the most reasonable price. You can have complete trust in the trained professionals who handle your wheels and guarantee a smooth ride.
For information please check our website: http://www.uniquewheelrepair.com.