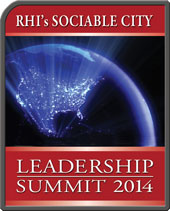 RHI's events are must-attends for municipal leaders that anticipate nightlife in their city, and especially for cities where nightlife needs to be strategically guided before it gets out of control.
Scotts Valley, CA (PRWEB) April 16, 2014
Challenges and opportunities in nightlife development have motivated city and state leaders from throughout North America to seek practical tools and solutions at the Responsible Hospitality Institute (RHI)'s Sociable City Leadership Summit event series. Five cities will host regional participants representing planners, police, economic development, business district management, hospitality businesses, and elected officials.
"Safe and vibrant nightlife requires a collaborative effort – everyone needs to be on board with a shared vision to make it successful. No other event series brings together such a broad group of people to create buy-in and coordination on how to overcome the obstacles and harness the benefits of the nighttime economy," states RHI President Jim Peters.
When well-planned and managed, dining and entertainment districts facilitate safe and fun social opportunities among residents and visitors. Nightlife is also a key economic engine, as the hospitality industry creates jobs and enhances a city's competitive advantage to attract new businesses, residents, students, conventions and tourists. Yet poorly managed districts and unruly nightlife crowds can generate increased crime and safety risks.
The RHI Sociable City Leadership Summit showcases the best strategies to plan, manage and police nightlife and mixed use districts. A comprehensive overview of trends and strategies will be presented to address the challenges of dense districts with active nightlife and residents living in close proximity. Participants are encouraged to bring their top issues and questions to the table for collective troubleshooting. They will also take a late-night tour of their host cities – a hand's on learning experience that will keep people out til bar closing time!
Among the cities to be showcased include:
-Northwest Summit: Seattle, WA (host city); Portland, OR; Victoria, BC
-Southwest Summit: Scottsdale, AZ (host city), Austin, TX; Tempe, AZ
-Northern California Summit: Livermore, CA (host city); San Francisco, CA; Santa Cruz, CA
-Southeast Summit: Charleston, SC (host city); Tampa, FL; Lexington, KY
-Northeast Summit: Philadelphia, PA (host city); Pittsburgh, PA; New York, NY
These cities were selected for their holistic approaches to reduce crime, enhance social options, reduce quality of life impacts, and manage nighttime crowds.
A special forum built around strategies for preparing for the legalization of recreational marijuana will be featured at the Northwest Summit. Representatives from Washington and Colorado will share their approaches to defining policy, new regulatory procedures, and the real-world implications of introducing marijuana into bar and club settings. With almost one third of states considering legalization, this is a timely topic for city and state regulators.
"RHI is on the cutting edge of the most relevant subjects for nightlife planning and management. Their events are must-attends for municipal leaders from cities that anticipate nightlife in the future to get ahead of the trends, and most definitely for cities where nightlife needs to be strategically guided before it gets out of control," said Bruce Kraus, Council President, Pittsburgh, Pennsylvania.
Additional information is at http://www.rhiweb.org or call 831.469.3396.