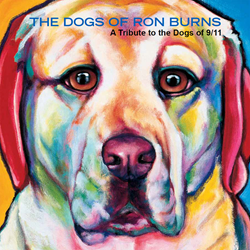 'Ron's work is a celebration of life, goodness and abiding friendship.' - Debra Burlingame in her foreword to 'The Dogs of Ron Burns: A Tribute to the Dogs of 9/11'.
(PRWEB) April 17, 2014
The 9/11 Memorial Museum, which opens in New York at the site of the World Trade Center on May 21, 2014, honors the many stories of heroism and tragedy that transpired on September 11, 2001, and in its aftermath. One of those stories is of a devoted, highly-trained dog who gave everything.
When the museum opens, visitors will learn of the ultimate sacrifice made by Sirius, the bomb-detection dog, who died in the collapse of Tower Two, through a portrait painted by Colorado-based artist Ron Burns.
"I am deeply honored that the painting was selected to become part of the museum's permanent collection because it's an image that will introduce a lot of people to the heroic role dogs play at moments of national crisis," says Ron Burns.
Ron Burns has spent decades capturing dogs in all their moods. In contrast to much of his celebrated dog portraiture – with lively eyes and an electric color palate – the portrait Burns painted of Sirius is muted, elegiac and direct.
When Sirius' remains were removed from World Trade Center rubble, they were given the same honors accorded firefighters and other rescuers, who lost their lives there too.
In his new book, "The Dogs of Ron Burns: A Tribute to the Dogs of 9/11," Burns honors what he calls "heroic dogs," including the search-and-rescue, bomb-detection, therapy, and guide dogs who support humans before, during and after times of terror and crisis, such as the events of September 11. The new book will be available at the museum's gift shop and at RonBurns.com ($19.95): http://www.ronburns.com/book/ and at http://www.amazon.com/gp/product/0972582916.
In the book's foreword, Debra Burlingame, sister of Capt. Charles F. "Chic" Burlingame, III, Pilot, American Airlines flight 77, writes, "I am deeply grateful to Ron for devoting a book to the dogs of 9/11. So much of our daily experience still returns us to the pain and anguish of that day, but Ron's work elicits memories of human decency, sacrifice and compassion triumphing over depravity. His paintings are a reminder of the great contribution to humankind made by the humblest of God's creatures. Ron's work is a celebration of life, goodness and abiding friendship."
Tickets to the Museum for visits when it opens to the general public are now available at http://www.911memorial.org.
The National September 11 Memorial & Museum is the not-for-profit corporation created to oversee the design, fundraising, programming and operations of the Memorial and Museum. The Memorial and Museum are located on eight of the 16 acres of the World Trade Center site.
For more on the dogs of Ron Burns visit: http://www.RonBurns.com.