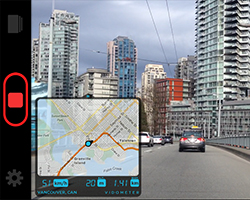 Vancouver, BC (PRWEB) April 16, 2014
Hitcase (hitcase.com), market leader in shockproof, waterproof, mountable sports-activity products for iPhones, today announced the availability of its updated Vidometer App 3.0.
Vidometer is a GPS Video Recorder App that uses the iPhone's built in sensors to create custom and accurate graphical overlays. When combined with the Hitcase Pro/5, Vidometer transforms an iPhone into a GPS-enabled action camera.
Visit this link to see a demonstration of Vidometer 3.0: http://youtu.be/sTwmfuOjTjM.
Additionally, Vidometer 3.0 now enables the in-app purchase of a new "Pro" version. The Pro version enhances users' experience with the inclusion of real-time mapping displays, in three graphical style options, including street and aerial mapping imagery.
The Pro version also includes GPS path tracing and tracking, the ability to save videos with embedded maps, an odometer measuring distance traveled, graphical compass, and more.
Whether skiing, surfing, or motorcycling through the Alps, Vidometer users can track and show what they were doing, where their video was captured, and easily share it with the world on their preferred social media platform.
"Vidometer is central to our quest to enhance users' experience and provide richer ways to record and share videos and photography," said Brooks Bergreen, Hitcase CEO. "Now you can actually see exactly where you were, displayed in a graphical overlay. Need proof? Now you've got it."
Updated Vidometer 3.0 highlights include:

Record, watch, and save video with GPS maps and telemetry data
Three different map styles:
o Street map
o Satellite/area map with compass
o Street map with detailed current location

GPS tracks / GPS path trace
Ability to save videos with embedded maps
Save videos with embedded maps
Odometer to track distance traveled
Detailed current location display
Graphical compass
Automatic video stabilization
Instagram support for videos and photos
HD video recording and video export
Displays and records:
o Speed
o Altitude
o Horizon level/tilt meter
Vidometer 3.0 is available from the App Store on iPhone or at https://itunes.apple.com/app/vidometer/id552124663
Vidometer Pro is available as an In App Purchase for $1.99 USD
About Hitcase
Hitcase is re-imagining how people use their iPhones. Indestructible, waterproof, shock-resistant, and mountable, with interchangeable lenses, apps, and accessories, the Hitcase ecosystem transforms an iPhone into a mountable, easy-to-use creative de-vice, enabling active people to easily capture and share their adventures.
Find Hitcase online
hitcase.com
instagram.com/hitcase
twitter.com/hitcase
youtube.com/user/hitcase