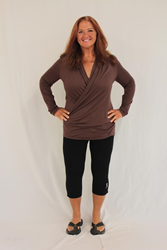 (PRWEB) April 29, 2014
Because of her persistent effort, courage, and determination to improve her health for herself and her family, Fitness Ridge is proud to announce that Margie Krueger will become a Guest Ambassador in order to give talks and work with current guests to help them achieve success in the weight loss program. Margie will be at Fitness Ridge for one week on July 20th, and then she will be back in October with her daughter.
Margie first checked into the fitness resort, Fitness Ridge on August 14, 2011, weighing in at 325 pounds. Struggling with weight her entire life, she had, at one point, lost over 200 pounds, and gained it back. As a mother of four children, and a grandmother of three, Margie knew that it was important for her to take action to take care of her health. She immediately called and booked a three month stay at the resort. Fitness Ridge allows clients the comfort of being able to stay as long as they need in order to achieve their weight loss goals and gain the knowledge needed to live a healthy lifestyle.
When Margie walked in the doors of Fitness Ridge, Lulu Hart, Spa Director at Fitness Ridge, immediately knew that Margie was very sad and broken.
"I could see that deep inside this woman with the bright red hair and big green eyes there was a dull shine; I suspected Margie was really someone who shined brightly from within," exclaims Lulu.
As Margie began her stay at Fitness Ridge, her inner strength and determination shined as she embraced the fitness regimens. She worked out from six to seven hours per day while attending two daily lectures to learn about food, weight loss, and lifestyle change. Beginning at 6 a.m. and ending at 6 p.m. daily, she would spend the whole twelve hours hiking the beautiful Southern Utah Mountains, going to swim classes, doing circuit training, toning, and attending spin classes, only to get up the next day and fully embrace the next twelve-hour session for a total of three months.
At the end of the three month stay, Margie had lost 65 pounds, and her mental health had significantly approved as well. For the first five months home, Margie lost another twenty five pounds; however, when personal issues, including a doctor's visit which revealed that she was fighting congestive heart disease, diabetes and other health issues, caused her to start gaining the weight back.
In May of 2013, Margie was informed by Fitness Ridge that she was the winner of a 2nd Chance Survey contest she had entered while at the resort. Margie was invited back to attend the program for one week. Since one week was not enough for Margie to significantly improve her health, founding partners Tami Clark and Cameron Kelsch, after seeing her persistent determination and her cheerful attitude in the first session, extended an invitation for Margie to stay at Fitness Ridge for another six months. Margie was scheduled to arrive at the resort on October 6th, 2013, and stayed until March 30th, 2014. At the end of the stay, Margie lost 115 pounds and 80 inches from her waist. She is no longer a type 2 diabetic, she is off most of her medications, and her blood pressure has been normalized.
Her success story is truly inspirational, and Fitness Ridge is happy to have her as an ambassador to motivate other clients to improve not only themselves, but to also strive to improve their health for the sake of their family. Perhaps the greatest part about the weight loss program at Fitness Ridge is that clients develop lifelong friendships and relationships with others, who are all participating in the same journey.
Margie has a plan to stay accountable and continue her journey at home. She will be cooking differently, working with a plan, and reaching out for help to her large support group at the resort.
Her medical numbers have greatly improved since October of last year.
October 2013 (last year)
Cholesterol: 178
HDL: 36
LDL: 109
Triglycerides: 167
Glucose: 151
A1C test: 7.8
Blood pressure: 202/112.
March 2014 (this year)
Cholesterol: 150
HDL: 54
LDL: 76
Triglycerides: 98
Glucose: 72
A1C test: 5.2
Blood pressure: 117/72
When Margie started she was on Lasix, Maxzide, and Lisinopril. She is no longer on any of these medications.
About Margie Krueger
Margie Krueger, age 57, is from St. Paul, Minnesota and attended Monroe High School. She has owned and operated her own licensed child care facility in Ramsey County for 35 years. Margie has four children and three grandchildren.
Follow Margie's Facebook Blog on the link below:
https://www.facebook.com/margie.blr
About Fitness Ridge
Fitness Ridge was founded 12 years ago by Cameron and Michelle Kelsch and Tami Clark. The facility has guest housing, a custom kitchen and dining room, gyms, aerobic rooms, a state of the art lecture hall, a swimming pool, hot tub, a wet dry sauna, and a steam room. The resort can accommodate up to 80 guests each week.
To learn more, visit the resort's web page below:
http://www.fitnessridge.com/
Contact Fitness Ridge/Margie Krueger
Margie will be At Fitness Ridge for one week July 20, 2014 and are open to select media coming and doing the program with Margie for interviews and photos. Please contact Lulu Hart at lhart(at)fitnessridge(dot)com. Before and after pictures and video of her journey are available upon request.