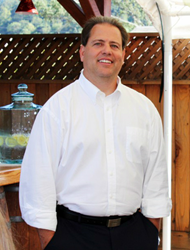 Instead of sending molds to a laboratory and fitting patients with temporaries, we're able to create and place custom crowns on the same day.
Whittier, CA (PRWEB) April 22, 2014
Robert S. Parminter, DDS, a dentist practicing in Whittier, California, has equipped his dental practice with the latest dental technology, including digital x-ray equipment in each room -- with a digital panoramic radiograph your x-rays show in a few seconds. He also offers Omni Camera digital impressions with a CEREC machine for one-visit restorations in addition to an in-office lab for patient convenience. You can watch while your crown is made!
"Our office is one of the most technologically-forward dental offices in Whittier," Dr. Parminter said. "This technology is convenient for patients, but more importantly, it is essential to improved treatment outcomes for helping people in our community attain excellent oral health."
Dr. Parminter explained how his investments in dental technology translate into detailed treatment plans for optimal oral health. "In the past, we had to refer patients to outside specialists. Now, we have the means to handle more complex cases in-house with a quicker turn-around time for customized care."
The digital x-ray equipment in use at Dr. Parminter's office allows for dramatically faster image processing over traditional film x-rays, as well as the ability to display and enhance images on computers for precise treatment planning. Panoramic radiograph equipment is a form of digital x-ray that shows the entire mouth in a single panoramic image. All with less exposure to radiation for your protection.
"It takes just a few seconds to obtain a panoramic digital x-ray," Dr. Parminter said. "Patients appreciate the speed and the ease of getting a complete x-ray without having to visit an outside office or struggle with the bite wings associated with traditional imaging." Most x-rays can now be taken without any device being placed in your mouth.
In addition to digital imaging equipment, Dr. Parminter's office also has its own OMNI CAMERA with CEREC unit. "This machine allows us to make custom crowns, bridges, inlays, onlays, implant restorations and other dental components during one office visit," Dr. Parminter said. "Instead of sending molds to a laboratory and fitting patients with temporaries, we're able to create and place custom crowns on the same day."
With the advanced equipment available from Dr. Parminter's dental office, patients are afforded quick and efficient treatment planning and creation of custom restorations.
About Dr. Parminter
Dr. Parminter began his studies at Cal Poly San Luis Obispo before attending Loma Linda Dental School, where he earned his Doctor of Dental Surgery degree in 1992. He belongs to several professional associations, including the Academy of General Dentistry, American Dental Association, California Dental Association, and San Gabriel Dental Association. Dr. Parminter also served as the president of the Whittier Dental Society from 1999 to 2000.
Dr. Parminter enjoys volunteer work and is active in the community. He has been involved with many organizations and has donated free dental care to underprivileged families.
For more information on the advanced treatment options at the dental practice of Dr. Robert Parminter, visit the website at robertparminterdds.com.