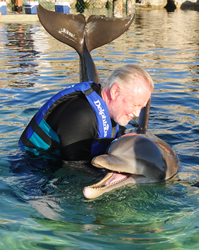 One day I hope to bring all my grand children, all of them, and they all have the same experience I had, will be wonderful. - Jon Voight
Cancun, Quintana Roo, Mexico (PRWEB) April 16, 2014
Actor Jon Voight recently visited Cancun and the Riviera Maya where he spent a short vacation and, between the natural beauties offered by this Paradise in Quintana Roo, Mexico, the actor swam for the first time with Boox ("Black" in Mayan language) and Kaak ("Fire" in Mayan language), two friendly dolphins in Delphinus Riviera Maya, center of interaction with these cetaceans located 10 kilometers from Playa del Carmen.
Jon Voight, father of actress Angelina Jolie, experienced dolphin kisses for the first time in his life as well as a space to simply watch and caress dolphins, who graciously turned to present the belly and be caressed by the distinguished visitor without having greater reward than the cuddle itself. The interaction with Boox and Kaak included the hallmark of Delphinus, the "foot push", with which he was able to verify the great strength of these aquatic mammals when he was driven by the soles of his feet along the lagoon where they are located.
Excited, Jon Voight commented at the conclusion of his swim, "I've never done like this ever before, was amazing to me. Everybody who comes here come away with this excitement –while trying to use his hands to express surprise and emotion at the same time- It's quite an amazing thing for people to interact with nature in the way that this allows you. Of course I got to know some of these dolphins, almost to the point that you get the personalities and a little bit and they are so smart and they have certain things like "sonar" (ecolocalización)… they have some many amazing aspects… and learning about the dolphins has been quite wonderful, but just being with them, that's something else, very special…"
"They seem [dolphins] very happy here [Delphinus Riviera Maya] for sure… I recommend everybody come down here and have a great time, you'll just never forget it. I have this little book which you provide me with, very good photography, and I will be able to take this back home with me and show my grand children and my family and I'm gonna be very, very excited. One day I hope to bring all my grand children, all of them, and they all have the same experience I had, will be wonderful."
The four times nominated and once winner of the Academy Award, Oscar (Coming Home, 1978), and recent winner of a Golden Globe (Ray Donovan, 2013) enjoyed dolphins Boox and Kaak for one hour; both dolphins were born in Delphinus which merited receiving a Guinness Record for its breeding program in 2009 and which remains in force today. Delphinus serves little more than 277 thousand peope annually and seeks to ensure that through this contact and information offered to the swimmers, the public is made aware of the role it plays in the survival of the 37 species of dolphins in the world which are threatened primarily by solid waste pollution, global warming, overfishing and exotic species invasion.
About Delphinus:
Delphinus is a Mexican organization dedicated to give intense moments of happiness and promote environmental stewardship through contact with bottlenose dolphins. Has 4 dolphinariums located in natural areas of great beauty and attractions such as the eco-archeological theme park Xcaret, the natural aquatic park Xel-Ha, the Mayan Riviera and at the heart of Cancun's hotel zone. 63% of the dolphins under Delphinus care were born at its facilities. Annually serves just over 277,000 people from all over the world.