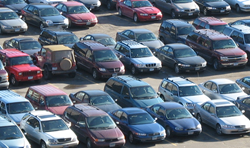 The need for parking at the airport is undeniable.
Bellingham, WA (PRWEB) April 16, 2014
Sagewood Holdings LLC along with its development partner Langstan management LLC has announced a private surface parking facility on Airport Road. According to Derek Stebner, project manager for Langstan, the lot will be approximately 1200 surface parked stalls with some covered high profile parking .
"The need for parking at the airport is undeniable" says Stebner. "This project is strategically located right off the interstate and on the road that leads to the airport.The business model is to cater to local and Canadian short and long term parking at a lower rate than what the Port is charging with superior bussing and shuttle services for customers. Further, a loyalty discount program will be implemented for frequent travelers, a service not offered by the Port."
The project has a few environmental hurdles to clear before final approval. But if approved as planned, the finished facility will represent between 15-20% of the available airport parking near the airport.
Anyone who has traveled in or out of BIA realizes the need for parking. Private unrelated businesses and even single family residences have attempted to take advantage by allowing parking on their properties. The County is in the process of disallowing parking on these private or unpermitted properties.
"The Canadian dollar is strong and both the US and Canadian economies seem to be heading in the right direction. People are traveling. Its far cheaper and easier for Canadians to drive thru customs and fly out of Bellingham as opposed to paying the higher fares in Vancouver and then standing in line for an hour to clear airport customs when they reach their US destination. I don't see this changing anytime soon. This coupled with the continued growth of one of Americas best kept secrets in the town of Bellingham all bode well for the project," says Stebner.
Bellingham International Airport was the fastest growing airport in America in 2013 according to a report published.