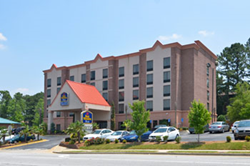 We want our customers to feel privileged round the year.
Atlanta, GA (PRWEB) April 16, 2014
Greenbee Parking, a young and rising airport parking firm, has just released a series of new and innovative parking offers for all travelers using the busy Atlanta (ATL) airport. As one of the busiest airports of the world and the largest in the country, business is always booming here. It also means a very high volume of passenger footfall as well as ground traffic and therefore, a high demand for parking. Greenbee's latest offers are welcomed because they not only expand the parking options manifold, but also brings with them varied alternatives for parking all of which come at very reasonable rates. This is especially good news for long term customers using the airport frequently as they can expect a major reduction of parking expenses and that too without Atlanta airport parking coupons.
"We want our customers to feel privileged round the year and without any extra effort," said Christine Cooper – Marketing Coordinator, Greenbee Parking. "That is why we have come up with these deals that will combine a great experience and major savings at the same time. Now one can expect traveling within their budget without using the typical Atlanta airport parking coupons."
Hartsfield-Jackson Atlanta International Airport Parking Information
Hartsfield-Jackson Atlanta International Airport is one of the largest and busiest airports in the US and ranks equally high globally. It connects with all major domestic and international destinations and is considered among the top 10 international gateways for Americans. The booming Atlanta economy is home to various industries, corporate headquarters and global businesses. These combine with increasing tourism figures to contribute to heavy air and ground traffic round the year. As one of the best run airports in the country, ATL also has authorities always on the lookout for better service and traveler experiences. These mean not just regular upgrades but also private service providers like Greenbee Parking in the scene, expanding the scope of the parking service here. They offer innovative and varied deals at amazingly affordable rates which mean that travelers can do without Atlanta airport parking coupons to avoid steep parking costs.
The Greenbee Airport Parking Solution
Greenbeeparking.com is the connection between consumers and parking vacancies in close proximity to major airports and seaports. The parking spaces are very affordable because the company has negotiated discounted rates with major hotel chains for the parking spaces that are not currently occupied. Here's how it works.
Greenbee Parking puts the available inventory of parking spaces on their website to be reserved by business and leisure travelers looking for cheap airport parking. This alternative method for finding parking equates to significant savings for the traveler. You can learn more about their offers from (http://youtu.be/RWc3dqhugFA) or via the web at (http://www.greenbeeparking.com/).
About Greenbee Parking
Greenbee Parking is the nation's most innovative long term parking company, with a new way of making long term parking affordable. The company is rapidly adding new airports to its network.