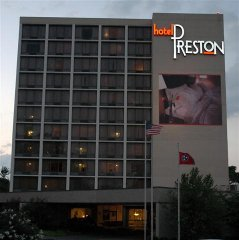 We are ecstatic and humbled at the same time with the Nashville airport parking reviews.
Nashville, TN (PRWEB) April 18, 2014
Greenbee Parking, a growing airport parking firm, has been heralded as one of the preferred service providers by their clientele using the Nashville (BNA) airport, in the latest Nashville airport parking reviews. The young company has already made a name for itself with the new age deals for airport parking that takes into account all kinds of problems one might face during travel. Therefore, it covers a vast ground in terms of parking needs, short and long term, annual or last minute parking, reminders and renewals et al. As a result of their excellent services and robust customer support they have made a huge difference to their customers' lives and how they deal with parking hassles. All these premium services come absolutely with premium charges attached, allowing one to save big time on airport parking expenses.
"We are ecstatic and humbled at the same time with the Nashville airport parking reviews," said Christine Cooper – Marketing Coordinator, Greenbee Parking. "We have always believed that we should focus on providing the best of service and recognition will automatically follow. These reviews have been such a motivation and we hope we can come up with even better offers in the future to serve our clients better."
Nashville International Airport Parking Information
Nashville International Airport remains busy and sees a lot of action throughout the year. It simultaneously caters to Nashville and parts of southern Kentucky, middle Tennessee and also northern Alabama. In terms of passenger footfalls it ranks as the 34th busiest airport in the country. The airport sprawls over 1,000,000 sq. ft. and has 47 carrier gates which connect with all major domestic and most international destinations. Last year, it had over 950,000 passenger footfalls, a figure that is only increasing. Business and leisure tourism are both on the rise and to keep these figures healthy and rising, BNA authorities have invested in major upgrades in recent times. Greenbee Parking has been working hand in hand with them to expand the parking services and improve on traveler experience here. Their excellent customer services have resulted in the raving Nashville airport parking reviews.
The Greenbee Airport Parking Solution
Greenbeeparking.com is the connection between consumers and parking vacancies in close proximity to major airports and seaports. The parking spaces are very affordable because the company has negotiated discounted rates with major hotel chains for the parking spaces that are not currently occupied. Here's how it works.
Greenbee Parking puts the available inventory of parking spaces on their website to be reserved by business and leisure travelers looking for cheap airport parking. This alternative method for finding parking equates to significant savings for the traveler. You can learn more about their offers from (http://youtu.be/RWc3dqhugFA) or via the web at (http://www.greenbeeparking.com/).
About Greenbee Parking
Greenbee Parking is the nation's most innovative long term parking company, with a new way of making long term parking affordable. The company is rapidly adding new airports to its network.