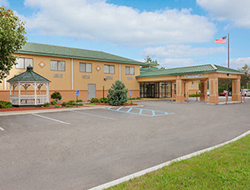 "We are constantly trying to come up with new and better ways to serve our customers."
Albany, NY (PRWEB) April 21, 2014
Greenbee Parking, a young and fast growing airport parking service, has announced their latest parking offers for travelers using the Albany (ALB) airport. Now their customers will have the added benefit of secure parking spots without paying high Albany airport parking rates. In their latest web upgrades, the young provider announced a further reduction of rates with their new offers which will include multiple options for both short and long term bookings. This is again another unprecedented offer since discounts till date have always been associated with long term options. But now, whether one is booking for a day, a few hours, a week or for a year, Greenbee Parking will have great deals and super savings options for all.
"We are constantly trying to come up with new and better ways to serve our customers," said Christine Cooper – Marketing Coordinator, Greenbee Parking. "To this end we are focusing at partnerships and collaborations, new space acquisitions and new options every day. These along with the reduced Albany airport parking rates are all clearly outlined in our regular web upgrades."
Albany International Airport Parking Information
Albany International Airport caters to major areas in Albany county, Western New England, the town of Colonie and Northeastern New York. Its strategic proximity to the CBDs of Colonie and Albany, as well as the Interstate Highways 90 and 87 makes it a convenient connecting point for business travelers in the region. The airport also sees a high volume of leisure travelers who use it to reach the various scenic hotspots of the surrounding areas. Known for its excellent customer service and customer comfort focus, the airport has been awarded the prestigious '1996 Balchen-Post Award for Outstanding Achievement in Airport Snow and Ice Control for U.S. Medium Commercial Airports'. The five-year $232 million Capital Plan for renovations are chiefly focused at increasing this customer comfort and make travel experiences here completely memorable. They are aided in this endeavor by private entities like Greenbee Parking who offer a wide range of parking services at very discounted Albany airport parking rates. Their new offers, released in their recent web upgrades, promise more savings for every customer.
The Greenbee Airport Parking Solution
Greenbeeparking.com is the connection between consumers and parking vacancies in close proximity to major airports and seaports. The parking spaces are very affordable because the company has negotiated discounted rates with major hotel chains for the parking spaces that are not currently occupied. Here's how it works.
Greenbee Parking puts the available inventory of parking spaces on their website to be reserved by business and leisure travelers looking for cheap airport parking. This alternative method for finding parking equates to significant savings for the traveler. You can learn more about their offers from (http://youtu.be/RWc3dqhugFA) or via the web at (http://www.greenbeeparking.com/).
About Greenbee Parking
Greenbee Parking is the nation's most innovative long term parking company, with a new way of making long term parking affordable. The company is rapidly adding new airports to its network.