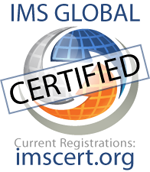 The additional accessibility features, defined by APIP, ensure that our customers are receiving content tailored to their needs.
Monterey, CA (PRWEB) April 16, 2014
The success of technology solutions that support the digital classroom is paramount to the future of K–12 education. A key component of the digital classroom is the transition from paper-and-pencil to online assessments. Pacific Metrics Corporation (http://www.pacificmetrics.com), a leading provider of education technology solutions, is confirming its commitment to this important step through the successful completion of the IMS Global Learning Consortium Assessment Conformance Certification for its Unity™ platform.
As an IMS Global Certified solution, the Unity platform is core import certified according to the Accessible Portable Item Protocol (APIP) 1.0 standard. The certifications include the import of Question and Test Interoperability (QTI) with accessibility, Personal Needs and Profiles (PNP), and Content Packaging (CP). These standards allow for seamless transfer of information from existing systems into the Unity system. The adoption of a common set of standards helps states and districts manage their increasing number of technology-based resources, and save money by reducing integration costs.
The next-generation Unity platform supports the delivery of formative and interim assessments. It is designed to help streamline assessment development, delivery, and reporting for K–12 and higher education, and offers a broad application in related industries. The Unity platform is available as a stand-alone platform or as a "white-label" option that can be easily integrated into an existing branded solution.
As part of the certification process, products were evaluated in the first certification challenge where Unity was awarded gold for the APIP category. According to the IMS Global Consortium, the challenge assessed "the features and functionality supported and the impact of these products/solutions to improve access, affordability, and quality or digital assessments."
"The APIP standard has proven useful in integration engagements both with external and internal customers. The additional accessibility features, defined by APIP, ensure that our customers are receiving content tailored to their needs," said Michael Aumock, Principal Software Engineer for Pacific Metrics. Aumock was recently recognized for his contributions to the development and adoption of the APIP standards at the 2013 IMS Global Learning Impact conference.
The Unity platform is not Pacific Metrics' first product to comply with APIP standards. In 2012 Pacific Metrics aligned its ORCA® Development product with the standards. ORCA Development was used to develop the web-based item authoring and item banking application for the Smarter Balanced Assessment Consortium.
For more information about Pacific Metrics or any of its technology-based assessment solutions, email info(at)pacificmetrics(dot)com or call (831) 646-6403.
About Pacific Metrics
Headquartered in Monterey, California, Pacific Metrics has achieved recognition for leading assessment evolution with the development of innovative, customized, web-based systems for state departments of education and next-generation assessment products using advanced education technology. For more information, visit http://www.pacificmetrics.com.
About IMS Global Learning Consortium (IMS Global)
IMS Global is a nonprofit organization that advances technology that can affordably scale and improve educational participation and attainment. IMS members are leading suppliers, institutions, and government organizations that are enabling the future of education by collaborating on interoperability and adoption initiatives. IMS sponsors Learning Impact, a global awards program and conference, to recognize the impact of innovative technology on educational access, affordability, and quality. For more information, visit http://www.imsglobal.org.