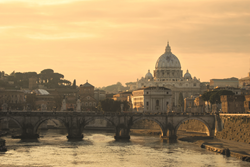 "The branch of the public library near our hotel had a free story hour for children on one of the days we were in town. My daughter loved it!"
New York, NY (PRWEB) April 17, 2014
It's National Library Week. Held from April 13 to 19, 2014, this national observance sponsored by the American Library Association (ALA) highlights the value of libraries, librarians, and library workers. Here are Academic Arrangements Abroad's top travel tips for library aficionados.
Visit a Library at the Airport
Stuck at the Philadelphia International Airport? You're in luck. The Free Library of Philadelphia recently opened a reading room between terminals D and E where travelers can download books. Airports outside of the United States also offer spots dedicated to reading. In Holland, Schiphol's Airport Library, aimed at passengers on intercontinental flights, boasts a multimedia collection that focuses primarily on Dutch culture. Tallinn's airport also has a where passengers can borrow a book during a layover.
Join an Organized Tour that Focuses on Libraries
Often, group tours have specific themes, and some of these journeys focus on libraries. Consider joining art historian Frank Dabell and Kenneth Soehner, Chief Librarian from The Metropolitan Museum of Art, this May for "Library and Museum Treasures in Florence & Rome." Travelers on this extraordinary program will discover dazzling art and rare literary collections.
Stop at the Local Library During Your Vacation
In addition to stopping at the obvious tourist spots, consider visiting a library in your travel destination. Also, look into whether there are free events such as lecturers or readings at the library. "This past winter, I visited Boston with my husband and toddler," says Ingrid Ahlgren, a writer for Academic Arrangements Abroad. "I was delighted to discover that the branch of the public library near our hotel had a free story hour for children on one of the days we were in town. My daughter loved it!"
Tour a Historic Library
Many historically significant libraries offer free tours to travelers. For example, the Library of Congress in Washington, D.C., has an hour-long walking tour of the historic Thomas Jefferson Building, which highlighting the library's art, architecture, work, and history. The New York Public Library offers tours at specific library locations. Similarly, the Boston Public Library has daily art and architecture tours. Outside of the United States, it is also possible to visit great libraries. Wonderful ones include the Reading Room at the British Museum in London and the Strahov Library in Prague. At Trinity College in Dublin, visitors can see the Old Library and the Book of Kells Exhibition.
Explore an Ancient Library
If you love visiting modern libraries, chances are you'll also enjoy seeing ancient ones. Notable examples include the Library of Celsus, an ancient building in Ephesus, Turkey, which was constructed to store 12,000 scrolls, and the Villa of the Papyri in Herculaneum, Italy. Although the Royal Library of Alexandria in Egypt was destroyed, today the Bibliotheca Alexandrina aims to "recapture the spirit of the original ancient Library of Alexandria."
Help a Library Abroad
A report by UNESCO asks if there is something travelers can do to help the libraries they visit in Caribbean islands. "Tourists could donate to the library the books they finish reading at that location (instead of leaving them at the hotel)," the publication's author suggests. "Tourists could also complete questionnaires offered by the library as a means to collect information on visitors, their questions, suggestions, and feedback. At the very least, tourists could leave the island with a deeper, more genuine sense of the present vivacity of the island, its people and resources."
About Us
Academic Arrangements Abroad, a leader in cultural travel since 1977, designs and operates travel programs for sponsoring institutions that include the nation's top museums and alumni associations. For more information, call (800) 221-1944 or visit http://www.arrangementsabroad.com.
For more information on this release, please contact Cathy Farber, Marketing & Communications, (212) 514-8921 or cathy(at)arrangementsabroad(dot)com.