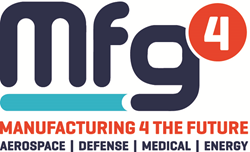 The Mfg4 event provides the opportunity to showcase our cutting-edge technologies to an engaged audience eager for new products.
Dearborn, MI (PRWEB) April 16, 2014
Mfg4, an event produced by SME, is one of the manufacturing industry's trusted sources of knowledge and information and returns to the Connecticut Convention Center in Hartford, Conn., May 6 to 8, 2014.
To serve the evolving needs of East Coast industries, SME produces the Mfg4 event for manufacturing professionals to collaborate, network and share solutions. Participants are provided the opportunity to explore innovative applications and new cutting-edge technologies that are driving change and leading the way in innovation and collaboration.
Many featured exhibitors will be introducing new products at Mfg4. These new technologies are helping attendees to serve customers in the aerospace, defense (including arms) and medical industries and run a more competitive operation. On the Mfg4 event floor, attendees can meet with industry-leading exhibitors showcasing the latest technologies and services to encourage innovation and meet customer demand.
"The Mfg4 event provides us the opportunity to showcase our cutting-edge technologies to an engaged audience eager for new products," said Jim Cepican of Marubeni Citizen Cincom.
This year at Mfg4, Marubeni Citizen Cincom will introduce a new model high precision 20mm Swiss style lathe that incorporates a B axis offering greater flexibility for a multitude of applications.
Mfg4 highlights more than 45 product categories and technologies – everything from additive manufacturing and 3D printing to precision machining and tooling to micromanufacturing. As attendees explore the exposition, they can look for the "New Product" light bulb in the aisles identifying exhibitors demonstrating new products.
"When we prepare to launch a new product, it is important that we reach out to the appropriate stakeholders in a meaningful way," said Linda Buturla with the L.S. Starrett Company. "Mfg4 allows face-to-face interaction between buyers and sellers, in an environment that fosters collaboration and potential long-term business relationships."
According to Buturla, the products L.S. Starrett Company will be highlighting at Mfg4 are important to the medical industry because they can be used to test medical devices for their form, fit and function.
"The ability to measure, analyze and collect data for exporting to quality control applications or to a network, is a cost-effective solution for medical device manufacturers around the world," Burtula said.
For more information about registering, attending or exhibiting at Mfg4, please visit mfg4event.com or call 800.733.4763.
To register please visit https://www.xpressreg.net/register/mfgf054/start.asp. For the most up-to-date details, follow us on Twitter @mfg4event.
About SME
SME connects all those who are passionate about making things that improve our world. As a nonprofit organization, SME has served practitioners, companies, educators, government and communities across the manufacturing spectrum for more than 80 years. Through its strategic areas of events, media, membership, training and development, and the SME Education Foundation, SME is uniquely dedicated to advancing manufacturing by addressing both knowledge and skill needs for industry. At SME, we are making the future. Together.