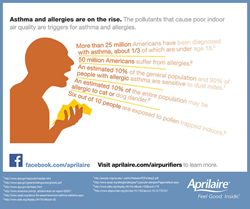 Controlling biological contaminants and allergens, such as dust mites and pet dander, could reduce asthma cases by 55-60%.
Madison, WI (PRWEB) May 18, 2014
Start defending your home against these top 5 summer allergens:
1. Pollen: Six out of 10 people are exposed to pollen trapped indoors
2. Dust mites: An estimated 10% of the general population and 90% of people with allergic asthma are sensitive to dust mites.
3. Pet Dander Allergens: An estimated 10% of the entire population may be allergic to cat or dog dander.
4. Mold: Roughly 15 percent of Americans are allergic to mold. Moisture control is the most important strategy for reducing indoor allergens from mold growth.
5. Mildew: Scientists have identified over 1,000 types of mold and mildew inside houses in the United States.
Get some relief from summer allergens and make the home healthy again.
Prevent irritants from entering the house.
Take measures to reduce allergens by making sure dust, dirt and other pollutants are prevented from entering the house. Remove shoes before entering the household. Be sure to close and windows and doors during high pollen days. Do not allow smoking indoors.
Install a whole-home air purifier system.
Whole-home air purifier systems remove up to 98 percent of airborne allergens and contaminants down to one micron in size and are 40 times more efficient than a standard furnace filter. This system removes allergens such as dust, dust mites, pet dander, mold spores, pollen, viruses, fungi, mold and other dangerous substances from the air throughout the entire home.
Maintain humidity levels at home.
Whole-home humidifiers and dehumidifiers can help control allergens with the perfect level of moisture—one in which dust mites, mold and mildew are not likely to survive.
For more information on whole-home air purification and total control of indoor air quality, visit http://www.aprilaire.com. Also, find Aprilaire on Facebook at Facebook.com/Aprilaire.