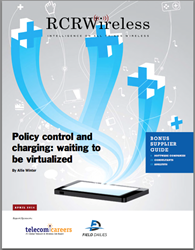 Squeezing as much capacity and efficiency out of networks is key. According to experts from Infonetics and others, virtualizing the policy control and charging aspect of that network is one of the most promising options.
Austin, Texas (PRWEB) April 16, 2014
With network virtualizing growing in importance across the telecommunications space, industry experts from Amdocs, NetCracker, and others note that policy charging and control are ideal segments to take advantage of what virtualization has to offer. RCR Wireless News' Telecom Software Series Feature Report entitled, 'Policy Control & Charging--Waiting to be Virtualized' delves into the terms, benefits and challenges tied to virtualizing policy charging and control, as well as top players in the space. Industry analysts also provide their insight into the potential and timing for the virtualized policy charging and control market.
Download this report to learn:

The drivers and benefits of virtualizing policy charging and control
A breakdown of virtualization
How virtualization can enhance PCC deployments
Financial impact of virtualizing PCC for telecommunications operators
The impact of cloud on virtualizing PCC plans
Watch the complimentary editorial webinar featuring:

Martha DeGrasse, Editor, RCR Wireless News
Edwin Gans, Director of Product Line Management, Amdocs Data Experience Business Unit
Michelle Nowak, VP of Product Management, CSG International
William Rotch, Director of Solution Architecture, NetCracker
Other key points identified in the report include expectations for the global policy management software market to hit $2.5 billion by 2018, with mobile driving much of that growth, according to Infonetics; virtualizing PCC will allow for more options and greater flexibility for carrier billing options; and breaking down where carriers can save in operating and capital expenses by virtualizing PCC services.
"Opinions and predictions are mixed, per usual in this space, but one thing is clear: even though all carriers might not have moved their billing and policy control to the cloud just yet, they're either thinking about it or preparing for it," Winter added.
Click here to download the report.
About RCR Wireless News
Since 1982, RCR Wireless News has been providing wireless and mobile industry news, insights, and analysis to industry and enterprise professionals, decision makers, policy makers, analysts and investors. Our mission is to connect, globally and locally, mobile technology professionals and companies online, in person, and now on video. Our dedication to editorial excellence coupled with one of the industry's most comprehensive industry databases and digital networks leads readers and advertisers to consistently choose RCR Wireless News over other industry publications. http://www.rcrwireless.com