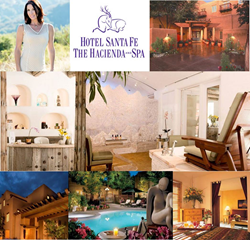 We want to bring the heritage of the brand to life for one lucky winner by showcasing our beautiful hometown, which has served as the key inspiration for our entire skincare collection.
Santa Fe, NM (PRWEB) April 16, 2014
Purity of Elements, a soon-to-launch prestige skincare line of face and body products, announced today that it has kicked off a Facebook contest to award one lucky fan with a getaway to the company's home base in beautiful Santa Fe, New Mexico. Set to launch in September 2014, the product line celebrates the elemental beauty of its Southwestern home with a proprietary blend of oils and minerals.
The contest's Grand Prize winner and guest will enjoy a two-night stay in a luxury suite at the picturesque Hotel Santa Fe Hacienda & Spa with round-trip travel accommodations. The two will also be among the first to experience the brand-new product line with customized spa treatments including the exclusive Purity of Elements Facial and Purity of Elements Massage. An intimate cocktail reception hosted in the winner's honor will include a meet-and-greet with Sheri Poe, the brand's chief creative officer.
"We want to bring the heritage of the brand to life for one lucky winner by showcasing our beautiful hometown, which has served as the key inspiration for the entire skincare collection," said Poe. "The Purity of Elements product line joins the purest, most powerful ingredients found in nature with the elemental beauty and healthy living of Santa Fe for a holistic approach to skincare, and we want to share that with our Facebook family."
Entering is easy – just "like" the Purity of Elements Facebook page, then sign up via the contest app to be a Purity of Elements Insider and be entered to win. Current fans that have "liked" the page and signed up to be an Insider will be automatically entered.
The contest will be further amplified through a partnership with the online edition of New You, a consumer magazine that focuses on beauty innovations, cutting edge products, treatments and procedures that restore a youthful energy and appearance. For the duration of the contest, New You will post content on its website and social media properties for additional promotion to its readers.
Inspired by the natural wonders of the nation's oldest capital city, the new Purity of Elements will feature a collection of luxurious anti-aging products that nourishes the skin and body with ultimate pure elements. Ingredients from Mother Nature, combined with advanced technologies, deliver powerful results to counteract the impact of age, lifestyle and environment on the skin.
The face collection features the unique and innovative benefits of copper, which maximizes the healing and restorative benefits featured in the proprietary Copper 5 Complex™. Containing powerful anti-aging properties, copper also helps promote the synthesis of collagen to help turn back the clock on fine lines, wrinkles, sagging skin and loss of firmness. The Body collection features a luxurious, blend of nourishing essential oils and other natural ingredients – including aloe vera, argan oil, monoi oil, evening primrose oil, vitamin E oil, jojoba oil, avocado oil and apricot kernel oil – specifically formulated to restore and renew the skin's natural balance.
Visit Purity of Elements on Facebook at facebook.com/purityofelements.
Purity of Elements will be available beginning September 2014 at purityofelements.com.