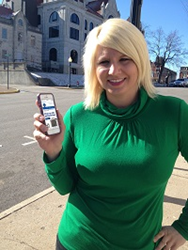 Emails work. I am definitely more likely to go shopping after receiving an email from my favorite brands.
Jefferson City, MO (PRWEB) April 16, 2014
Recently, Front Page Digital has noticed a trend in email marketing. Businesses that use this marketing technique are seeing an increase in sales and loyalty. Front Page Digital sees this as confirmation that the occasional, well-done email reminder can prompt extra store visits and help maintain top-of-mind awareness.
According to a recent article from eMarketer, published March 17, including a coupon in email alerts is a great way to boost open, click and transaction rates. To view the article, visit http://www.emarketer.com/Article/Not-Happy-with-Your-Email-Metrics-Include-Coupon/1010683. The article also states that the majority of U.S. adult Internet users used digital coupons in 2013, and the number is on rise.
Marketers can further increase the effectiveness of marketing emails by personalizing them – perhaps making more than one email list based on client preferences and previous purchases. Marketers who want to stand out among other marketing emails can also optimize for mobile. According to a Feb. 2014 study by Ascend2 (http://ascend2.com/), only 28 percent of marketers said their company was optimizing email for mobile devices.
Mobile isn't just a fad though. According to the Nielson Mobile Insights Survey, 62 percent of all U.S. mobile phones are smart phones. The number is growing rapidly – in 2009, only 18 percent of mobile phones were smart phones. Additional information can be found at http://www.nielsen.com/us/en/reports/2013/whats-next--getting-started-with-mobile-what-marketers-need-to-k.html.
Front Page Digital is ready to help all their customers take advantage of this growing trend and create an effective marketing campaign. Here are the steps they suggest:

Don't overdo it by blasting consumers every day. Stick to a couple times a month – if a business has new products or sales often, they can manage a weekly email.
Keep the look and feel of the email consistent with the rest of the branding.
Make sure the email looks great on mobile devices.
Include a clear message to drive consumers to make a purchase. Bonus points for including a mobile offer or coupon.
Include great product shots.
To learn more about email marketing and Front Page Digital, visit their website at http://www.frontpagedigital.net/.
About the company:
The Jefferson City News Tribune was founded in 1865, and has been the advertising source that central Missouri businesses turn to when marketing their products or services. Today, News Tribune is much more than a newspaper. With the addition of Front Page Digital, Central Missouri Newspapers now hosts a complete suite of integrated media products that connect businesses to the targeted consumers they need to grow their brand successfully and to drive revenue.
Each month, News Tribune, Front Page Digital and its affiliated websites receive 1.4 million page views, according to Google Analytics. Now, with the addition of Front Page Digital, their proven strategy for reaching influential, local consumers will expand businesses in ways owners never thought possible.