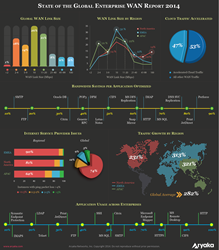 Toronto, Ontario (PRWEB) April 22, 2014
The partnership supports Aryaka's ongoing push to remove the barriers to cloud adoption and deliver an optimized network connectivity to enterprises operating at a global scale.
"The relationship with Edgeworx represents an opportunity for Aryaka to expand its presence in Canada, a very significant WAN Optimization market," said Sonal Puri, VP Marketing, Sales & Alliances. "Unlike many box resellers in this space, Edgeworx is truly a services-led, solutions-oriented company. We are excited to partner with them as we focus our combined energies serving a broader range of customers with our cloud-based, fully-managed networking solutions."
Canadian businesses will now have local resources to support access to Aryaka's optimized, enterprise-grade, fully meshed global network, allowing them now to collaborate real time across teams, improve their applications' performance and enjoy LAN-like speeds when accessing cloud and SaaS applications globally – all this without the need for cumbersome on-premise hardware appliances or costly long-haul links.
Edgeworx customers also benefit from access to MyAryaka, Aryaka's unique real-time web-based customer portal that delivers comprehensive network-wide visibility into locations, applications and performance. By partnering with Aryaka, Edgeworx taps into new recurring revenue streams — all while saving their customers time, money and resources.
"Aryaka compliments Edgeworx core business by addressing Canadian company needs to expand quickly into geographically and technologically challenged, international locations for both the midmarket and the Enterprise said Wilfried van Haeren, CTO - Edgeworx Solutions Inc. Aryaka helps address key success factors across all industry sectors through: Speed to market, Time to benefit, Zero Capex, Lower total cost of ownership, No incremental skills, Capacity on demand, Visibility and Security into the network to align with business growth and demands. Aryaka's global coverage includes 25 Points of Presence within close proximity to 90% of the world's business users. Through its "as a Service" utility-like design, the Aryaka solution brings no obsolescence and immediate benefits to the Business."
ABOUT ARYAKA:
Aryaka delivers application and network performance for the globally distributed enterprise for better collaboration, communication and business productivity. Aryaka eliminates the need for costly WAN appliances or long-haul private links. Aryaka's premier WAN Optimization as-a-Service accelerates any application to any location on one affordable, optimized network. Aryaka's Network as-a-Service provides organizations an optimized network with QoS for instant and reliable business connectivity. Aryaka's Application Delivery as-a-Service enables distributed business users to quickly access centralized enterprise applications and Cloud resources from anywhere in the world. Aryaka's Cloud Network as-a-Service provides organizations an optimized and fully meshed network to on premise locations as well as cloud services. All services provide end-to-end visibility with 24×7 world-class support. To learn more, visit http://www.aryaka.com.
ABOUT EDGEWORX:
Edgeworx is a specialized Systems Integrator based in Toronto Ontario Canada. Supported by a proven Professional Services Discovery & Assessment Methodology, we deliver innovative, domestic and global, client-specific, Optimization Solutions. Customer benefits include, improved end-to-end visibility, control, acceleration and performance predictability throughout the Application, LAN, WAN and WiFi environments. Ultimately, our most critical goal is to help our clients improve and maintain the best possible End User Experience - every time, all the time. We also help customers achieve "reduced elapsed time to business value/benefits" and we drive greater ROI and utilization in your application and network investments. We make application transactions that go slow, go faster than ever before!
For further details, visit us at Edgeworx Global Network Solutions.