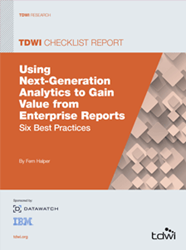 The reality is that valuable data about a company's business and its customers is found in reports as well as in less-than-structured documents.
Seattle, WA (PRWEB) April 15, 2014
TDWI Research has released its newest Checklist Report, Using Next-Generation Analytics to Gain Value from Enterprise Reports: Six Best Practices. The report examines how enterprises can understand the value of analytics, view its enterprise content management system as a report warehouse, and think through analyzing content from their reports.
Increasingly, companies are recognizing the value of data as a competitive differentiator, and it's no longer only structured data that holds value. "The reality is that valuable data about a company's business and its customers is found in reports as well as in less-than-structured documents," notes the report's author, Fern Halper. "Often this kind of data is stored in a company's enterprise content management system ... [which] is a way to collect, store, and organize company documents and other sources of information."
In fact, Halper writes, "Content management systems often contain huge amounts of customer-facing reports, such as financial statements, billing invoices, healthcare patient records, or statements of benefits. These reports typically include numerical data."
Halper begins the report by discussing the value of analytics—the process of transforming data into insights. She points out that in a recent TDWI report, nearly half (45 percent) of respondents utilizing predictive analytics measured a positive top- or bottom-line impact. Halper also discusses the benefits of unstructured and semi-structured data to analytics.
The TDWI Checklist Report explores the role of a content management system as a report warehouse as well as a treasure trove of data contained in those reports, both time-sensitive and customer-facing data. Halper explains that the "data that was in static reports is now 'live' data that can be analyzed in several ways, including ad hoc reporting, data discovery, and time-series analysis.
"Our Checklist Report helps enterprises understand the vast array of analytics tools available to explore report data, and why it is important that organizations not forget about governance, especially as it relates to data quality and data access," says Halper.
This research was sponsored by Datawatch Corporation.
How to Get the Report
For a complete copy of the report or to ask questions of the author, members of the press should contact Fern Halper at fhalper@tdwi.org.
The report is freely downloadable by the public at http://tdwi.org/research/2014/04/checklist-using-analytics-to-gain-value-from-enterprise-reports; a short registration is required for those downloading a TDWI report for the first time.
About the Author
Fern Halper, Ph.D., is director of TDWI Research for advanced analytics, focusing on predictive analytics, social media analysis, text analytics, cloud computing, and "big data" analytics approaches. She has more than 20 years of experience in data and business analysis and has published numerous articles about data mining and information technology. Halper is co-author of "Dummies" books on cloud computing, hybrid cloud, service-oriented architecture, service management, and big data. She has been a partner at industry analyst firm Hurwitz & Associates and a lead analyst for Bell Labs. Her Ph.D. is from Texas A&M University. You can reach her at fhalper@tdwi.org, or follow her on Twitter: @fhalper.
About TDWI
TDWI, a division of 1105 Media, Inc., is the premier provider of in-depth, high-quality education and research in the business intelligence and data warehousing industry. TDWI is dedicated to educating business and information technology professionals about the best practices, strategies, techniques, and tools required to successfully design, build, maintain, and enhance business intelligence and data warehousing solutions. TDWI also fosters the advancement of business intelligence and data warehousing research and contributes to knowledge transfer and the professional development of its members. TDWI offers a worldwide membership program, five major educational conferences, topical educational seminars, role-based training, on-site courses, certification, solution provider partnerships, an awards program for best practices, live Webinars, resourceful publications, and an in-depth research program. For more information, visit tdwi.org or follow us on Twitter @TDWI.
About 1105 Media
1105 Media, Inc., is a leading provider of integrated information and media in targeted business-to-business markets, including specialized sectors of the information technology community; industrial health, safety, and compliance; security; environmental protection; and home healthcare. 1105's offerings span print and online magazines, journals, and newsletters; seminars, conferences, and trade shows; training courseware; and Web-based services. 1105 Media is based in Chatsworth, CA, with offices throughout the United States.
###
Media Contact:
Fern Halper, TDWI
fhalper(at)tdwi(dot)org; (978) 443-0504